Attention, fellow fashion lovers! There are two huge trends for this season, and they're both rapidly popping up in storefront displays and on fashion websites. Chances are you've already seen them gracing the racks of your favourite stores, and you've been lusting after them all summer, just waiting for the weather to cool down so that you could work them into your autumn-to-winter wardrobe.
So without further ado, here are the two statement styles to sport this season…
The two F's: Fringe and Fur.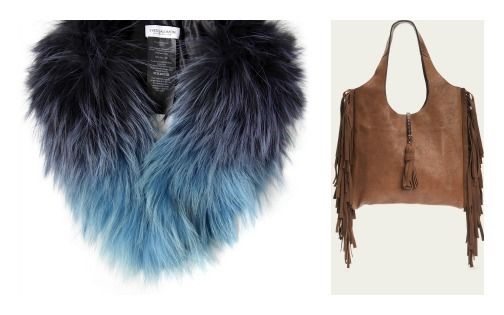 Why fringe and fur? Well, for starters, these exceptionally fun fashions were more than evident in the runway reports that came out earlier this year.
E! Online said it themselves
: "The only thing bigger than fur trim for fall-winter 2015 is strategically-placed fringe." Need more evidence? After scoping street style stars around the world during fashion month in February,
StyleCaster noticed that fur is here to stay
by stating, "…the trend is showing no signs of slowing down."
And I couldn't agree more. These two picks are the ultimate autumn/winter accents that will have you forgetting all about the warm summer sun. But simply investing in these trends is only the beginning. To own your look, you've got to do much more than haphazardly throw on a fur stole or a pair of fringed boots. You've got to work your own personal style and pre-existing pieces into each look.
Take the fringe trend, for example. It can take your outfit from fashion amateur to seasoned professional, but only if you know how to style it. Fringe bags are a great way to incorporate the trend—a brown one will give off a western vibe, and a black one is best worn for a night out. No matter which option you choose, just make sure the rest of your accessories match the colour of your bag—this is a fashion rule that is seldom broken for very good reason. You can also try fringed booties to play up the adjacent '70s trend of the season, with a pair of bell-bottomed jeans and a bohemian top.
When it comes to fur accessories, there are either faux or real options that both look just as chic. As far as planning goes, Lyst recommends investing in a "fuzzy coat" before the trend catches too quickly and all the best ones are gone. In addition to a fur coat, collars are also on the hot list. Colourful collars like the one above are not for the style-shy, but they add a beautiful pop of colour to otherwise basic outfits. Whether you choose a bright or neutral fur accent, rest assured that your outfit will look positively lush. To avoid looking too posh, dress down with bare beauty details and low-key garments. For a more done-up look, try pairing with a simple but stunning dress.
Of course, if you're feeling ultra trendy, fringe and fur can mesh well together, too. For a cool evening look, you can pair a neutral-coloured fur collar with a fringe satchel, distressed jeans and a basic top. It's all about balance when it comes to strong trends like fringe and fur. No matter what the fashion gurus say, though, stay true to yourself even when following trends, and go with your gut. After all, fashion is an art form used for self-expression. Express yourself and let your personality shine!
~~~~~~~~~~
Guest post by Rebecca Griffin