So finally, here is my Capsule wardrobe round-up of the clothes I expect to be wearing over the next few months. It is a bit of a difficult post to put together this one. I've decided that I don't really like the stock images supplied on brands' websites of the clothes I own. And I really don't have time to photograph every single item of clothing I own either. So I have taken a few pictures of some of my clothes and I will talk about / link to some of the others that I have featured in previous posts, if you would like to see anything in more detail.
I decided not to limit myself to specific numbers this time but have looked at the pieces I think I will get most wear out of and that can be mixed up together. As it happened, the pieces ended up amounting to fifty, I'm not sure whether this is an 'acceptable' number for a capsule but it is a number that gives me plenty of choice in mixing and matching. For reference, I have not included occasion wear, gym/leisure clothes, accessories or handbags in this list.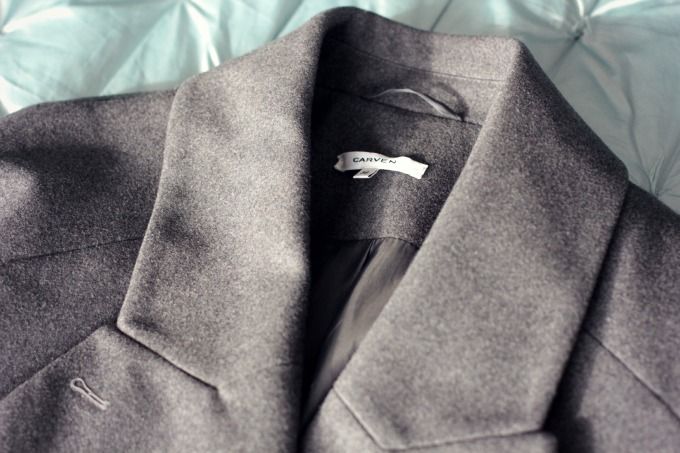 Outerwear - 1 Coat; 2 Jackets
The Carven coat I bought back in May is one I have been getting a lot of wear out of so far. Being oversized, it means I can fit lots of my woolly jumpers underneath. I also have a shorter length grey coat from last year that I will also wear when I need a different length, it also happens to be oversized and grey (I'm sensing a theme!) And finally, in those minus temperatures I will no doubt refer back to my navy fur coat. Every year I say I need a new option as I have been wearing this for several winters now. But really there is nothing wrong with this one, so until something else catches my eye, this will be worn again.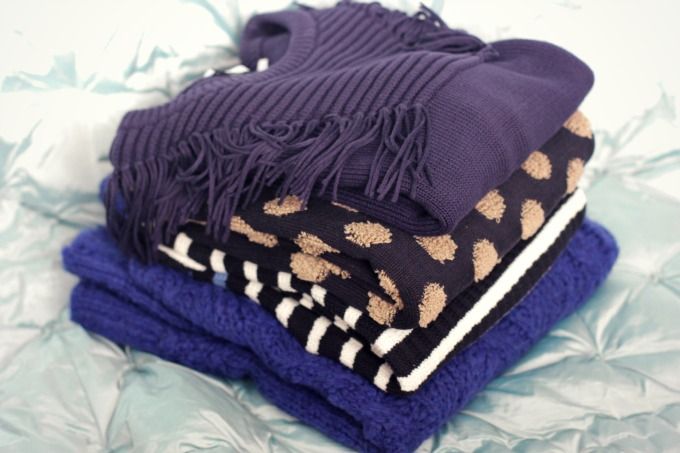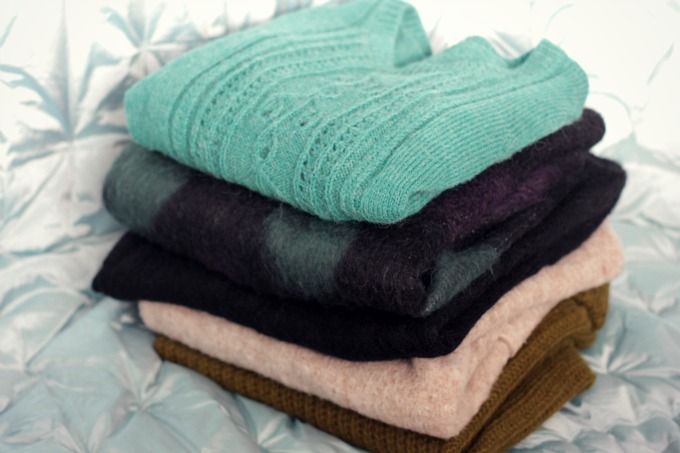 Knitwear - 9 Jumpers; 1 Dress; 2 Other Tops
I am all about the woolly jumper in winter. I love being cosy and snuggly and I have added quite a few more into my collection this year. In the blue pile we have - & Other Stories navy tassel; & Other Stories navy polka; Armor-Lux stripe; Zara cobalt blue. And in the second picture - Whistles green; & Other Stories black polka; & Other Stories black mohair; H&M Cream; COS khaki roll neck. There is also a navy cashmere H&M x Margiela jumper dress not shown in these pictures, as well as a Whistles striped sweatshirt and a Carven silk and alpaca top.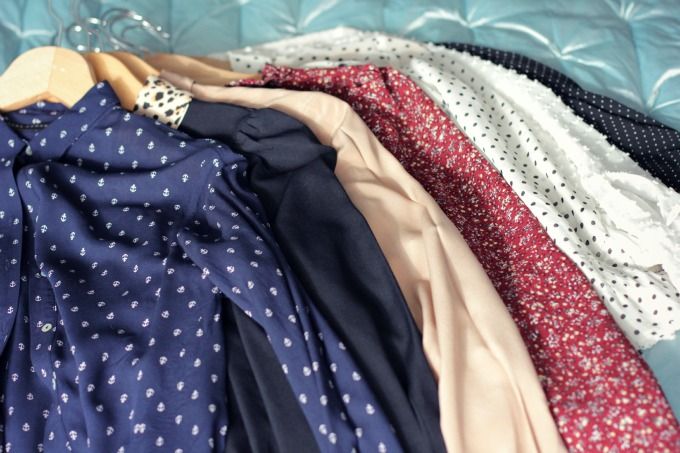 Blouses - 12
This picture shows only a snippet of the blouse collection - Zara navy anchor; Family Affairs leopard collar; Everlane silk pink; Zara flower; Vintage polka; Zara cream; Zara black polka. I really like blouses to wear under jumpers in the winter, I like the collar to peak through and also they are good for adding that extra layer. But worn by themselves, underneath I am always wearing Uniqlo Heat-tech!
Dresses - 11
Dresses used to be all that I ever wore, but this season I have narrowed down those that I expect to be wearing (for everyday mostly, not occasion wear) to the grand total of eleven. The three in this picture are new buys from Zara. A little away from my usual style with their prints, I usually favour plainer clothes, but I was drawn to these for their autumnal hues and patterns and have enjoyed wearing them so far.
Bottoms - 7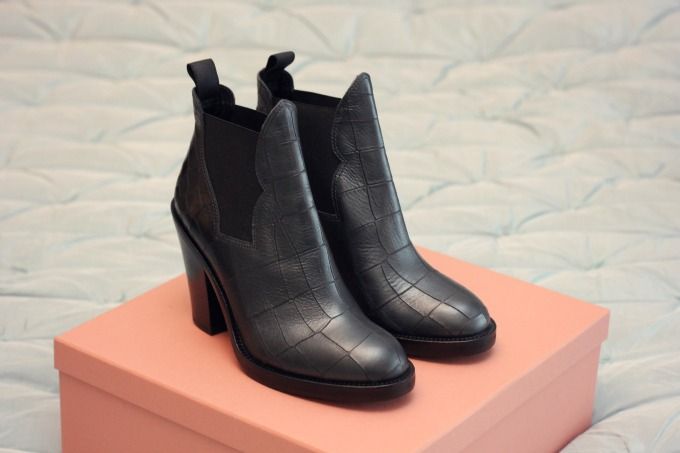 Footwear - 1 Over-Knee Boots; 3 Ankle Boots; 1 Shoes
~~~~~~~~~~~~~~~~~~~~