With the recent Apple Event last week and long-awaited news on new product launches, I thought now might be a good time to share my thoughts on the Apple Watch. I received this in early August as a birthday gift from my lovely boyfriend, so have had a month or two to get used to it and make my mind up on how I'm finding it...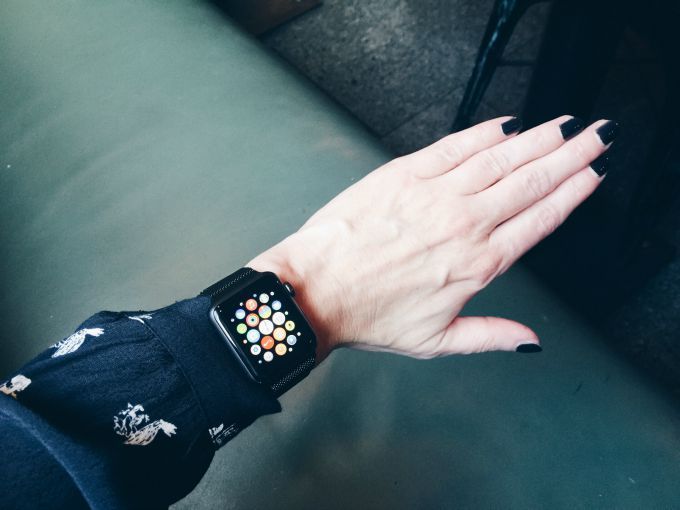 Price: £299
Accessories: Black Milanese Loop Strap (bought third party)
Reason for purchase: Apart from being an utter Gadget Geek, my initial thoughts for purchase were gym related. I have the iPhone 6 Plus which is quite a large model phone and when running needs to be carried to be able to use any of the running apps (the Nike Running app was my choice at the time). So researching the Apple Watch I found that I wouldn't necessarily need my phone when running. The Nike Running App still works from the phone, so would still need to be carried but could be hidden away in a pocket. But the Workout app built into the Watch powers itself and doesn't need the iPhone in close proximity at all. Similarly, upon purchasing the above wireless headphones, I would not need an annoying wire from my phone to listen to music, (music I find an absolute must when doing any form of exercise), but instead I could listen to music from the signal via the Watch to the wireless headphones.
Model purchased: The Apple Watches range massively from the entry point of £299 (which my version is) right up to £13,500. There is also the recent introduction of a model in collaboration with Hermes (so possibly introducing an even higher price point). If I had an unlimited budget, of course I would go higher end. But for me, I think £299 is enough to pay for what is essentially a gadget and one that I assume will need updating as the iPhones do, and not built to last forever.
Watch Strap: I didn't particularly like the sport band that came with the model I chose. I really like the Milanese Loop strap, although Apple only offer it in a silver colour and not black. I wanted black colour throughout and no silver, so that I could wear this comfortably with the rest of my gold jewellery. I really like the third party strap I found, the straps are easily interchangeable and so far it is holding up really well, I have no complaints.
Wireless Headphones: If you want to listen to music through the Watch, the only way of doing so is by buying some wireless headphones. I read mixed reviews of these before buying, so was a little cautious, and I have had to replace them once already. As per the reviews, the music can skip a a beat and keep disconnecting from the Watch. A problem which is supposedly specific related to the Watch and not any other device. The second pair (so far, touch wood) have been ok. And when they do work are a fantastic sound and together with the Watch, the perfect duo for exercising.
Apps:
When I first set up the Watch with my iPhone, I allowed for any iPhone Apps to be transferred over to the Watch and decided later which I thought were of particular use after playing around with them. There is an Apple Watch App on the iPhone, so a lot of the controlling is done from that. As you can see, I have quite a lot of Apps on the Watch, so I won't go through them all. But those I have been using the most so far are the Passbook (to buy my morning Starbucks), Music, Keeper (so handy to store the codes for my work entrance), Activity (the main App
linked to the Watch for exercise and movement), Workout, Messaging, Weather and Calendar.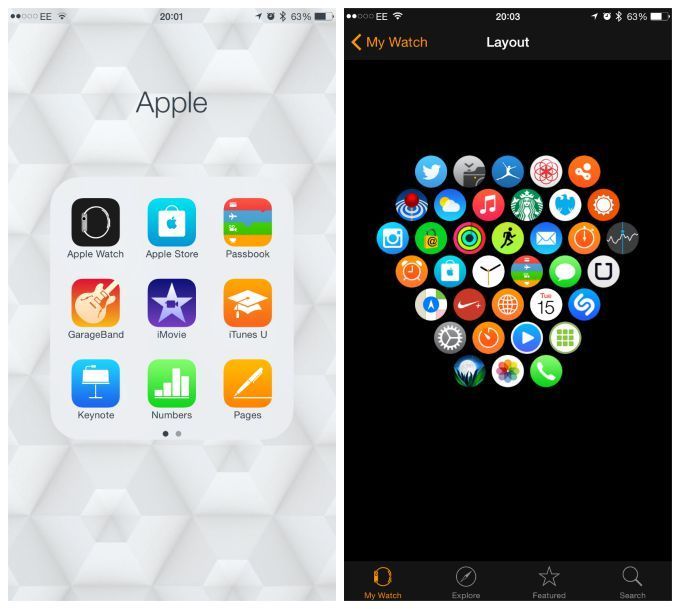 Battery Life:
Ahh the age old Apple question. My Watch being the very first generation of Apple Watches, I would say that it is not brilliant. It lasts me about a day, it struggles by around 9pm if I have been using it a lot for exercise throughout the day. I would assume eventually, much like the iPhone 6 versions, that this will be improved with time. For me, at the moment, this time length is just about fine.
Would I recommend?: Yes! But only if you have a good reason to need one. This is not a life changing gadget like a phone or a camera. Apple have been very clever with their design (would we expect anything less?!) and have made the Watch a very good extension of the iPhone rather than a replacement of it. So quite often I will find myself being able to access messages and notifications via the Watch rather than constantly having to reach into my handbag for my phone. So far, I love it and having a lot of fun with it!
If you're thinking of buying an Apple Watch and have any questions, I will be happy to answer in the comment section below :)