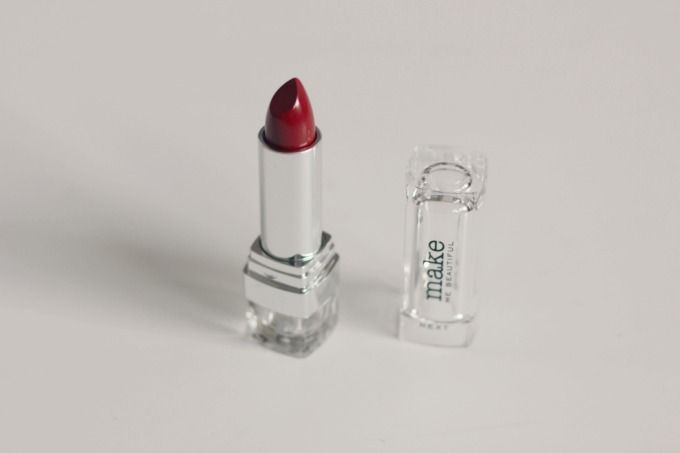 You may or may not be aware that popular UK high street chain Next launched their own beauty range a few months ago, mid February 2015, Make Me Beautiful. I contacted Next to see if they would be interested in supplying me with some products from their new range when I took part in the intu Eldon Square Big Treat Event.
I picked up a huge bag of products from the store which I was able to use as part of my display at the Shopping Event. The idea of me taking part in the event was that I would be on hand as a Beauty Blogger to advise impartial advice on various beauty products and brands. So to include Next in this and introduce the Newcastle shoppers to their new range was fantastic. Many of the shoppers were not aware that Next had brought out a new make-up range and I thought that perhaps you might not be aware too, so decided to share them with you here and provide a brief overview and my thoughts on the range so far. Quite a few of the products were opened at the event for sampling purposes but those that weren't I have been able to open up and use myself to trial for the purposes of this post (and also because I'm huge beauty junkie!)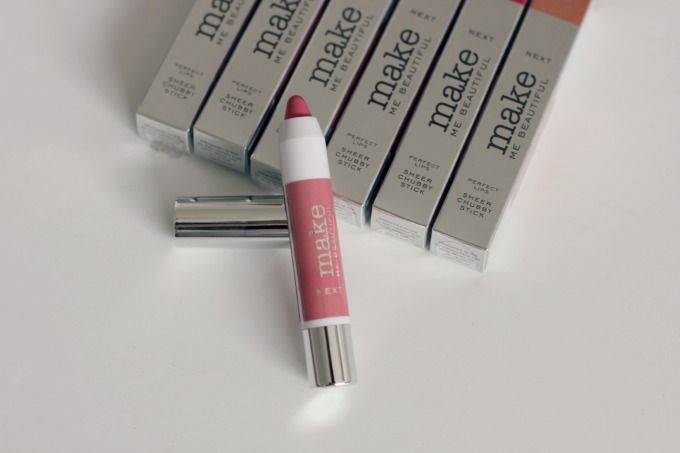 Lips - I was given a selection of lip products - 6 Sheer Chubby Sticks; 5 Matte Lip Colours and a Lip Gloss Set. Personally I am a fan of highly pigmented colours and a Matte Finish is my preference, so the lipsticks for me are a firm favourite. The Chubby Sticks are very sheer and so pretty as a light finish for spring and summer. The lipstick colour I have been using so far is the red shade, a very deep rich red which will be perfect for autumn and winter. The lipsticks have a lovely thick, creamy and very pigmented consistency, so a good alternative if you prefer something heavier to a sheer Chubby Stick.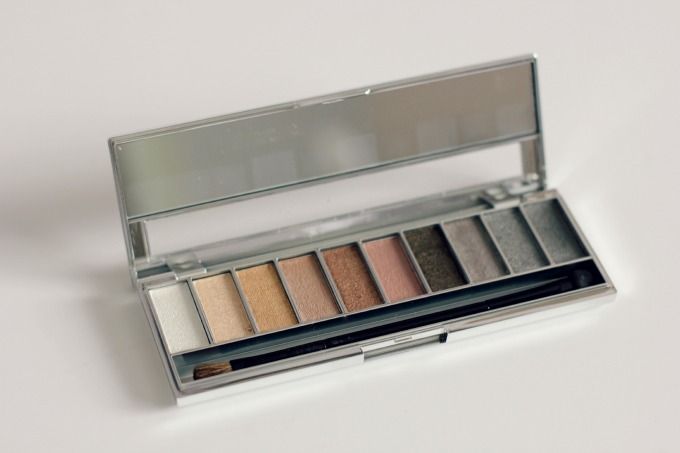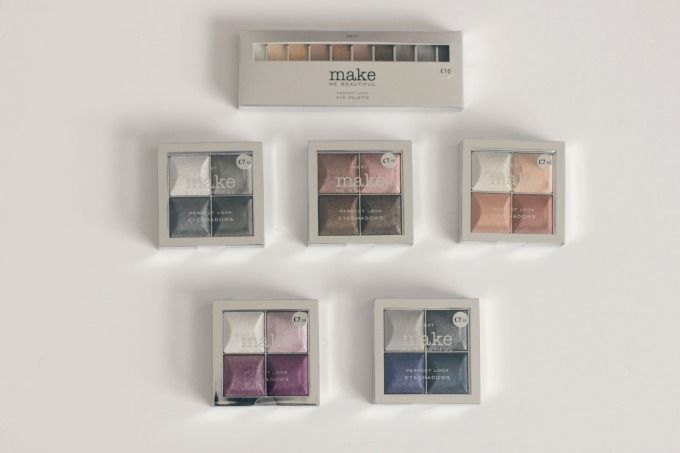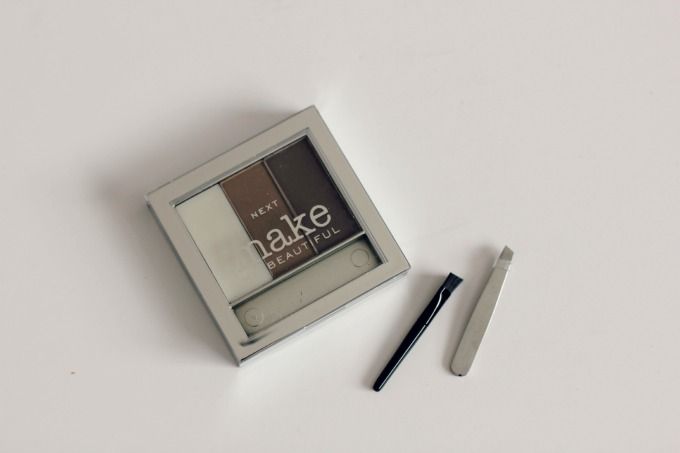 Eyes & Eyebrows - There are a few eyeshadow palettes to choose from - a 10 Shade Palette with the most perfect selection of neutral and grey shades in both pearlescent and matte finishes, and a selection of Eyeshadow Quads that are available in a selection of complimentary shades. I was also given some Smudge Eye Pencils and a couple of Liquid Eyeliners. There is also a great travel compact for eyebrows that includes a small eyebrow brush and miniature pair of tweezers, perfect for on-the-go.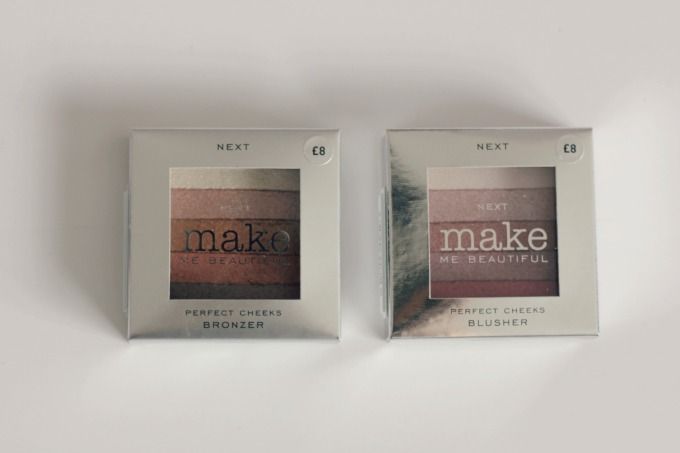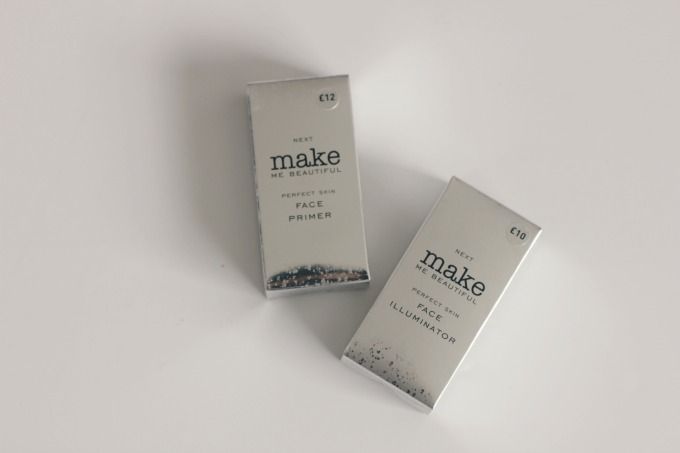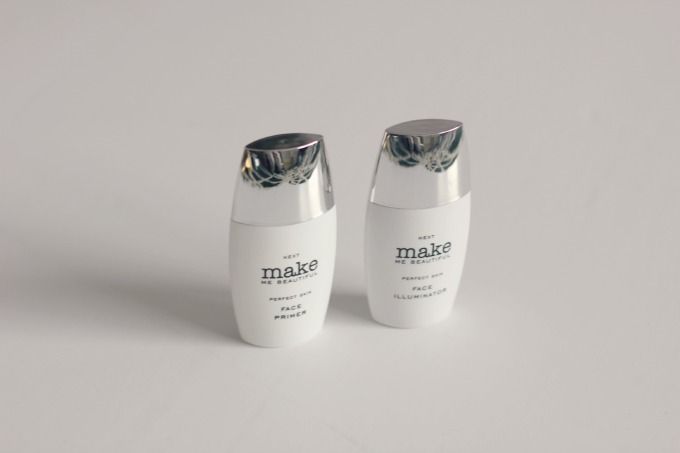 Face
- There are
Bronzer
and Blush shimmer bricks which are great for either applying as a mixed product, or for using one part of the product for either a highlighter or contour. There are also a couple of liquid face products in the range, a Face Primer and Face Illuminator. I already had the Face Primer from a Next Goody bag, so have been using it for a while anyway. It is a thick clear lotion which gives almost a waxy finish to the skin and is a really great base to layer the rest of the make-up. The Illuminator is also a really light lotion which gives a lovely light shimmer when applied to the cheekbones.
Overall I really like the range. Packaging plays a large part for me with beauty products. I like a simple and sleek design, the silver and perspex packaging of the lipstick in particular was a huge draw - I like my make-up products to look chic when I am re-applying in public. The price point of this range is also a big draw, most of the products are less than £10 each. I also thought there was a good selection of colours in both warm and cool tones (I think you tend to be one or the other). I'm interested to see if more products will be added to the range to make it even bigger. If you are in the market for some new beauty buys, I would definitely recommend giving these a go.