I recently made an order from the company Everlane and thought I would share my experience with you
here. I did some research myself before making the order and found a couple of on-line reviews
(here and here), but thought I would add another experience into the mix.
I have been seeing the brand Everlane show up quite a lot on my various social media feeds and I was
instantly drawn to the simplicity and quality of the clothing, they seemed to be a really good
option for sleek and simple basics, specialising particularly in silks and cotton garments. As well
as that, the brand has a very ethical ethos with a transparent pricing policy.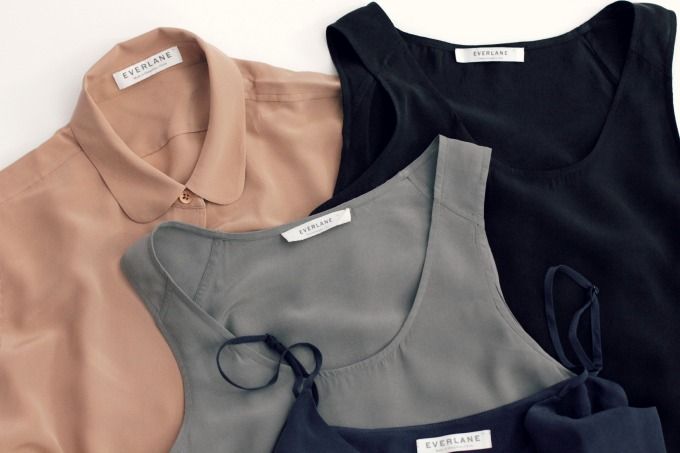 So when initially browsing the website, I wanted everything! I do this often, compile a list of
EVERYTHING on my wish list and then narrow down to the most important items that are within my
immediate budget, with a view to making another order at a later date. So bearing in mind the spring
and summer seasons soon approaching, I decided to order the following items:
Notes on shipping and delivery:
My order came to a total of $243 (around £159) with an offer of free delivery on the first order.
Now, one thing to bear in mind is that Everlane do not ship to the UK but advise using HopShopGo as
an international shipping service. I had heard of but never used one of these forwarding addresses
before. Basically, you register with them using your PayPal account and they give you a US shipping
address to use. So you access the Everlane site via the HopShopGo site, buy your items (Everlane do
accept international payment methods) and insert your international address supplied by HopShopGo into
the address field. Everlane then post the items to the address and HopShopGo email to confirm
receipt and let you know their charges based on weight, international address etc. There is a way of
checking a rough idea of this price prior to ordering and I calculated mine to be around £20. I
figured as the items I was purchasing from Everlane are such good value for money and a lot cheaper
than I would find here, the extra shipping cost was very much worth it.
It took 8 days for my Everlane parcel to reach it's US shipping address and then another 10 days to
reach me. So it's worth bearing in mind there is quite a long delivery wait of around two and a half
weeks.
Notes on my order and the items purchased:
I measured every item I ordered against an item I already owned, I think this is the best way of determining size, as some items seem to fit larger than others. For example the size small fit perfectly in all of the items (tanks and blouse), and the size extra small fit perfectly for the camisole. I am usually around a UK size 10 for reference, with broad shoulders and a relatively small bust. I always worry about sizing when ordering from a new store for the very first time, but thankfully I chose the correct size on all of the pieces I ordered.
The silk fabric on these garments is very much a washed silk, so has that fuzzy
peach-like feel to it. I would say all of the colours were pretty much as I expected, perhaps apart from the blush blouse which was warmer toned than I had imagined. The silk is also quite a thick fabric and not sheer at all, unlike some silk blouses I have tried in the past, so they do feel quite luxurious.
Would I order from Everlane again?
Yes! I was very happy with all of the items purchased, they ended up being exactly as I had hoped.
And I have already started making a list for items for my Autumn/Winter wardrobe!