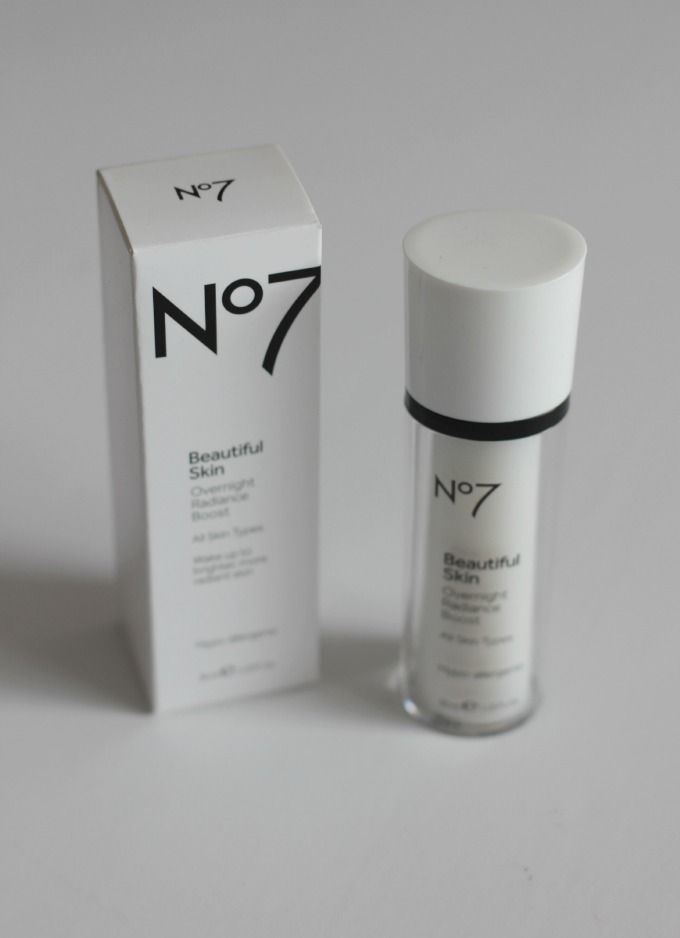 Whilst manning my Beauty Blogger stand at the recent intu Eldon Square Big Treat event, I got chatting to neighbouring beauty stand, Boots No7. I was given a few products to try out, some sample sizes of make up and skin-care and a full size bottle of their Beautiful Skin Overnight Radiance Boost.
I decided to review it here, as I have now been using the product every evening for around the last 3 weeks. I'm probably a little less than a third of the way through, so here are my thoughts so far...
Packaging
- I adore the minimal packaging of the bottle. The bottle has a very sleek design, tying in well with the rest of the range and the brand. Despite No7 being towards the low to mid range end of the market, I am more than happy to display this in my bathroom with the rest of my higher end skincare collection.
Texture & Consistency
- I was surprised at the texture of this product. As an Overnight Radiance Boost, I expected a serum, assuming a light and milky consistency - much like Estee Lauder's Advanced Night Repair, if you are familiar with that. This is more of a light lotion or moisturiser, so much heavier than your average serum. Two pumps of the product gives me enough coverage for my full face and lightly down to my neck. It sinks into the skin well, so that I don't have to wait too long for my next layer of night cream.
When to Use
- As the name of the product would suggest, the best time to use this is after cleansing but before moisturiser at night. Night-time is always the best opportunity to use products which nourish and heal the skin, as the skin repairs whilst sleeping. Also, using such a product on a morning prior to applying make-up isn't the best time for me as I don't want my skin to be too full of moisture or too greasy for my make-up application.
How to Use
- I use two pumps of the product, lightly sweeping across my full face and neck, omitting the eye and lip areas. And gently patting into the skin can also help with penetration into the skin's layers.
Fragrance
- Now I am not a huge fan of fragranced products at all, and generally will avoid them at all cost. I either like completely fragrance free or if there has to be any kind of smell, a herbal or aromatherapy based product is very welcome. This No7 treatment does have a slight floral fragrance which I did think at first would put me off. But I stuck with it and quickly got used to the smell which seemed to disappear into the skin quite quickly. All in all, it is not an unpleasant fragrance for an evening product.
Results
- I have to confess, when trying out and using regularly many of the beauty products in my collection, I am never quite sure if they work or not. Unless something gives me a massive instant face lift, which is highly unlikely, I am unsure of it working wonders and the sometimes extreme promises brands often give. That said, I do find that a product will make my skin feel smoother and give it a brighter appearance, which I feel this product has done. I have been using skincare products since the age 11 (thanks to my wonderful dad!) and largely put down the good texture of my skin age 42 with a consistent skincare routine from a young age. So whether I receive immediate effects from my products or not, I very much advise using them on a regular basis for long-term skin benefits.
Price
- £14.00