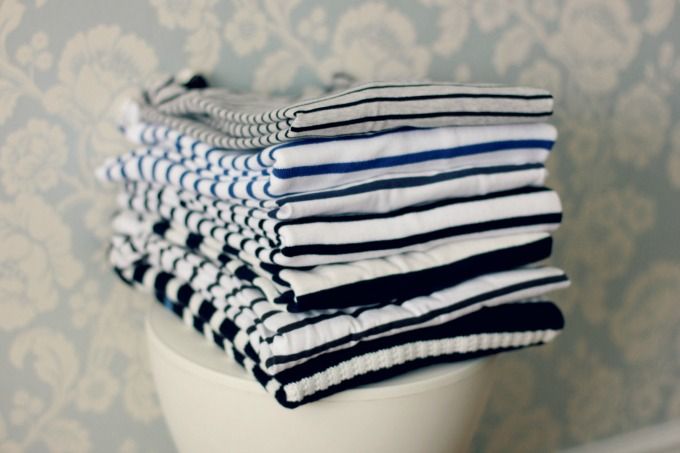 Spring - April to June
Summer - July to September
Autumn - October to December
Winter - January to March
4 categories, 4 styles in each category
(multiple items per style)
It has taken a lot of thought to come up with a structure for my Capsule Wardrobe. I have read many websites and watched many YouTube videos on the topic and I really felt that none of them suited me quite right. Mostly because I found them to be very strict. For my first attempt at this, I don't want to be too harsh on myself. I don't want to completely get rid of a load of clothes and then massively regret it. Working up to this in stages gradually works much better for me I think. I will share with you in another post all of the links I saved to other sites and videos that I found interesting. But for now I will share with you my own formula to how I am going to make a Capsule Wardrobe work for me.
I mentioned before that I found it easiest to split up the Capsule Wardrobe into 4 parts - Spring, Summer, Autumn and Winter. As this has all taken quite a bit of thought and planning, I didn't rush straight into my first Winter Capsule but decided to wait a few months for the next, Spring edition.
I decided on 4 Categories - Tops, Dresses, Bottoms, and Outerwear.
My Capsule Wardrobe will not include any of the following - Underwear, Shoes, Handbags, Accessories and Jewellery
(Although they will be listed as part of my Wardrobe).
Because I found it difficult to be extremely strict with myself and because I do get through a lot of clothes anyway throughout the week, working everyday in an office environment, I decided to follow a formula of types of clothing pieces, but with no limit on the amount of pieces within each category. This is what I have finally settled on (all subject to change of course once the Capsule is in action and I learn how to live with it and how it will work for me):
Tops - Blouses; Tops/Tees; Bretons; Knitwear
Dresses - Knee-length; Mini; Midi; Maxi
Bottoms - Trousers/Culottes; Jeans; Shorts; Skirts
Outerwear - Mid Coats; Jackets; Trench Coats; Knee-length Coats
I am still pulling together the pieces I want for each category, so of course will keep you posted on those, in time for April's first Capsule. And in the meantime, I will continue to share my thoughts on the process and resources I have found along the way.
~~~~~~~~~~~~~~~~~~~~
Wardrobe specifics can be found here.