Anyone who knows me well, knows that I love to make lists. My iPhone is my constant companion, I'm a keen list maker and a keen on-line shopper so constantly searching for things to buy and enjoy looking for inspiration. I'm one of those people who always has a wish list on the go, I feel like it gives me a sense of purpose and something to work towards. So any hard days in my routine 9-5 job, all seem worthwhile when I know I will be rewarded at the end of the month.
I've used an on-line wish list before but somehow never found it that easy to navigate and save the items I found when browsing on-line. So when asked to check out new wish list service, The Greedy Book, I was keen to find a new site that could save all of the things I hope to buy someday, as well as giving friends and family an easily accessible place to view those things for themselves, without my knowledge.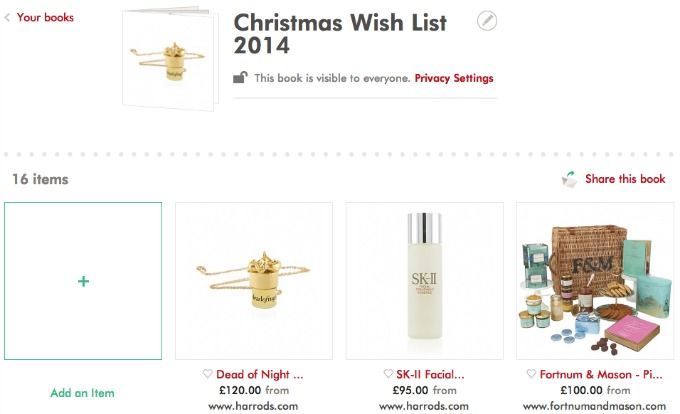 I got far too carried away creating my first book, as Christmas is coming up I thought it the perfect time to collate my Christmas Wish List which you can see a little of in the images above. You can download an easy tool that sits within your computer's toolbar, much like the Polyvore clipper if anyone users that. It makes it so easy to land on a page and then save the item you're looking at. You can create many books with different titles and make them private or open, whichever you prefer. I love the clean layout, it reminds me a little of Pinterest, and you know how addictive that can be! Of course it is different to Pinterest in that this is a place for storing the items that you're actually meaning to buy, rather than collating a selection of pretty images. So once an item is saved it can be clicked through and eventually bought via the site, a very easy process for anyone wanting to buy you a gift. I definitely see myself creating more books over time, as part of my own wish list process as well as gift suggestions for others. And I'm hoping an iPhone app will be on it's way very soon ;) If you love shopping and making lists and fancy giving your loved ones a helping hand in gift-giving, I would absolutely recommend taking a look at The Greedy Book and creating some books of your own.