Today I have an interesting collaboration for you. I don't often feature men's fashion on here or even give the males in my life much of a mention. However, when approached by match.com and given the opportunity to share the launch of their very creative competition 'Guy Candy', I was quick to jump at the chance to post it here with you all, as I think the concept behind the campaign is rather cool.
match.com are giving two of its most eligible bachelors a very unique helping hand in their search for a date, by giving them a boost to their profile and placing them in front of as many single females as possible. The idea is that two London-based males with an interest in fashion have been re-created as mannequins in a 3 day pop-up shop window in London's Brick Lane and as a result will give any passing single ladies the opportunity to click straight through to their match.com profile to arrange a date.
There are so many people dating on-line now that to stand out from the crowd these days takes some effort and imagination. These two single guys, Keron Knight, 26 and Michael Catuogno, 33 have been given the amazing opportunity of having 3D mannequins designed and placed in the shop window of a busy area to gauge the effect of their popularity. This will then be rolled across the UK, the extra Boost given to their profile a campaign to promote match.com's Boost paid-for add on, which members can purchase to boost their on-line profile.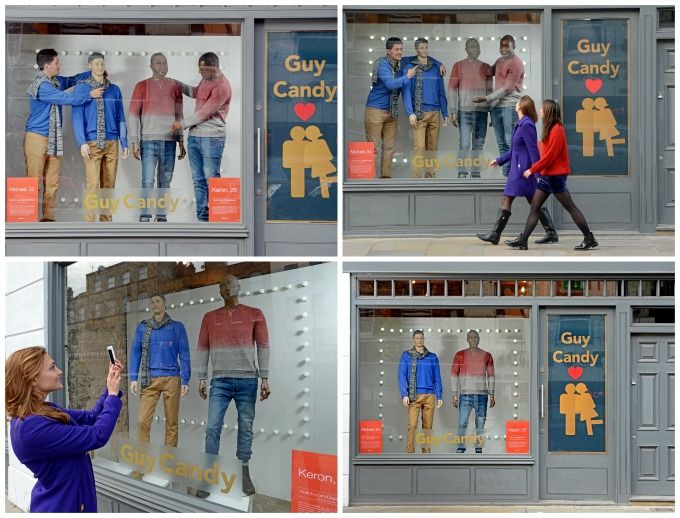 The part where I come in (along with a few other bloggers), is to help promote the campaign across social media channels, by putting together my ideal 'first-date-outfit' – which you can see below. This will then be voted for by Twitter followers as the best outfit choice for Keron, one of the single bachelors. Fashion-conscious, single 'man-nequin' Keron will decide which of these outfits he would actually choose fuor his first date and any Twitter follower who has voted for the same outfit will enter a draw to win one out of three shopping vouchers worth 2x £50 and 1x £75.
When putting together my outfit choice for Keron (of whom I had no idea of personal appearance), I decided to choose some classic, well tailored pieces which are stylishly on-trend. Of course, I had no idea what the first date would entail, so have kept the outfit smart but casual with some warm pieces for the season we are in. I don't like male fashion to be overly complicated or trying too hard (nothing worse than seeing a man on a first date desperately trying to impress), rather I would like to see a cool, laid-back elegance which I hope this outfit portrays.
I would love for you to vote for my outfit collage for Mr Elegant, (if you like my styling of course), and to be in with a chance of winning one of the shopping vouchers for yourself. You can vote on Twitter right here.