So anyone who has been a reader on here a while, will know my addiction for handbags. I don't think of myself so much a collector of handbags as a lover of handbags, as I very much like to wear them and get as much use out of them as possible. These are my top 5 and those I use the most. Probably also they are the most expensive, as those iconic but discreet labels most definitely make me love them that little bit more...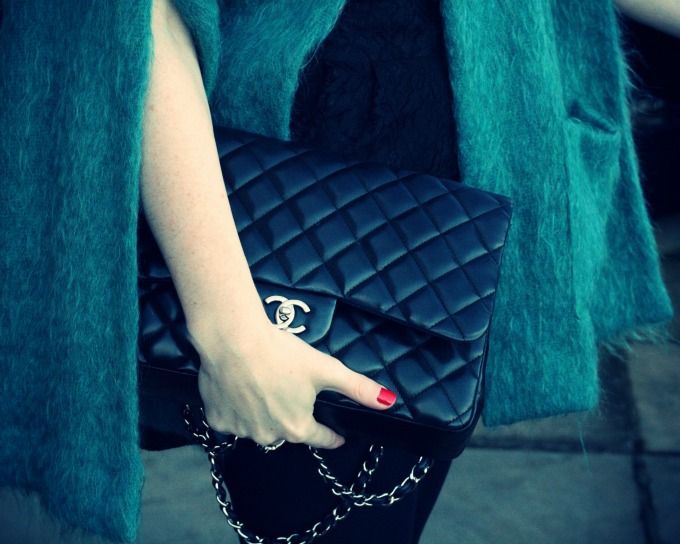 1. Coming in at number one, is most definitely my first Chanel purchase, the Jumbo Classic Flap (often incorrectly named as the 2.55). I wanted something very classic and chic for my first Chanel purchase and had dreamed for such a long time of owning this handbag. I was very specific at the time that I wanted the lambskin with silver hard-ware, although if I were buying this again I would go for the caviar leather with gold hardware (as below), for it's durability. This is a single flap handbag which I don't believe are made anymore, they are all now double flap (keep their shape better but are smaller inside).
This handbag made me work so hard to finally get it into my possession. My dream was to buy it from the rue Cambon store in Paris but sadly when I got there they did not have any in stock, or in Paris at all, despite me popping in a few times over the days I was in Paris. Once home I think I telephoned every store in Europe but could not get hold of it. I was obviously very naive at the time, not realising just how difficult these are to purchase. I put a call in every week to the stores in London. After about six weeks, Bond Street (and then soon after Barcelona) called me to say they had one and would post it out to me. That was a very exciting day indeed.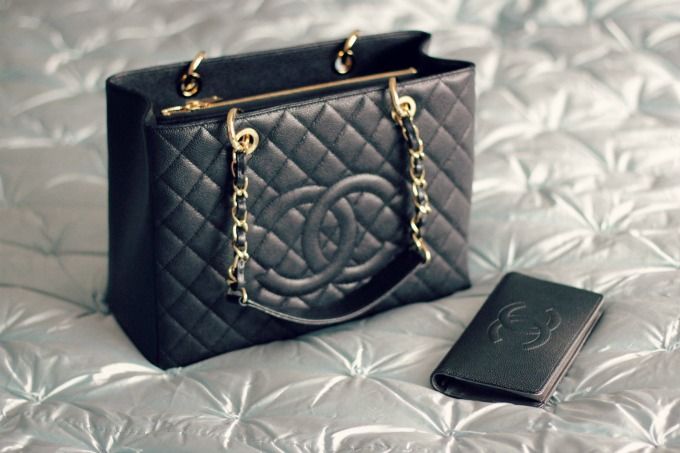 2. As I was approaching a significant birthday last year, I decided once again to treat myself to some Chanel goods, my dream this time to purchase from New York City. I debated for a while, whether or not to buy another Classic Flap in beige or go for a different style altogether and something larger this time. Again, always thinking about the longevity of these pieces, I came across the GST (Grande Shopping Tote) and decided this would be the bag for me. As it came in quite a bit less expensive than the Classic Flaps, I also had money left over for a Bi-Fold Yen Wallet, Gold Coin Purse and Brooch from Chanel. Although I ended up buying the bag and yen wallet from London again, as the price was much more favourable in Europe than the US.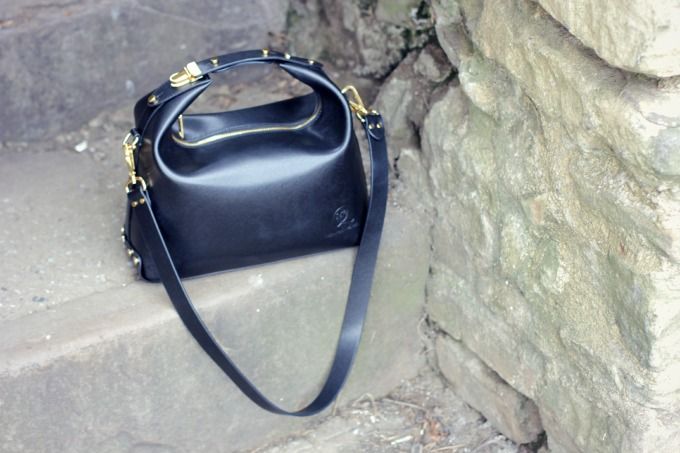 3. Next up is my most recent purchase. I always promise myself that I will not look at handbags when shopping on-line but end up doing so anyway. As soon as I spotted this on my Spartoo monthly shop, I could not get it out of my mind for weeks. I love the designs by Alexander McQueen, I think they are really edgy and have some unusual features. I wanted a dressy, structured handbag for daytime use and this McQ by Alexander McQueen is so gorgeous.* And despite appearing quite small, can actually fit so much in it. I have used it every day since I bought it.
4. This Moschino handbag from the Cheap & Chic range * was another expensive purchase but is so well made and stylish and is the first satchel-like bag that I own. Again, another purchase from Spartoo - a really good site for designer goods at slightly less expensive than you would find in the shops. You have to be quick though, as they will often only have one or two of each style in stock.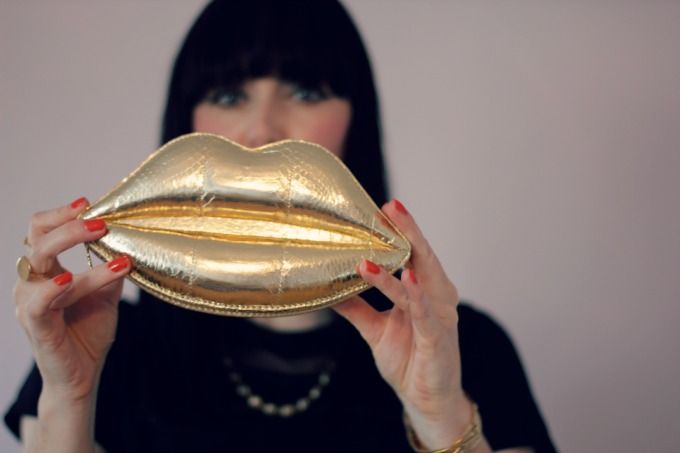 5. And finally, a very different handbag to the rest. This small gold lips clutch by Lulu Guinness* is as much of a decorative piece to me as an evening handbag. It is like nothing else I own and just seemed so decadent and frivolous when I got it. I was lucky enough to receive it at the time by the TK Maxx brand and with another to giveaway. It's the perfect handbag to add a quirky edge to a simple outfit.
So I suppose these five handbags mostly are quite similar in that they are black / gold. There is not too much difference in the style and colour. But for me, when paying out a lot of my own money, I want to make sure I am going to get a lot of wear, that they will really last a long time and will suit most of my outfits. That said, these all have their own individual charm and continue to be very happy purchases.