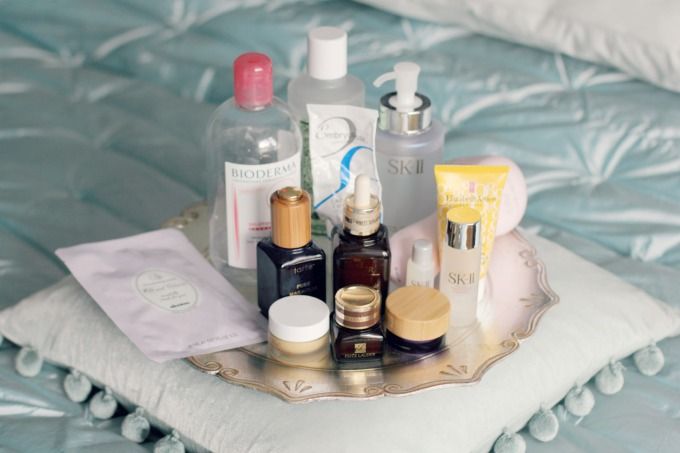 I've been meaning to do this post for so long, ever since reading 'The 10-Step Korean Skincare Routine' on beauty blog Into The Gloss. As I was reading the post, I realised that my own skincare routine was not so different to the one featured and certainly involves as many stages. I don't think a skincare routine needs to be as long and detailed as mine, but if you're a beauty lover like me, it is an absolute pleasure to use these amazing products every day. The full ten steps are mostly used at night, being the most important time for the skin to fully absorb products and work their absolute magic.
As far as my skin goes, I feel like I have been quite lucky in my life, that my parents insisted on a skincare regime for me from about the age of eleven. Very young maybe, but I read now that this is a very normal age for Korean culture to begin their skincare lifestyle also. As market leaders in all things beauty related, the world seems to turn to Korea and their developments for news and insights on what works best for the skin.
I did suffer from some acne in my teenage years, purely hormonal, around the chin area. Thankfully I grew out of this, initially with the use of the pill Dianette (which I would not recommend taking!) and then on to many years of using the Eve Lom Cleanser which really seemed to work wonders for my skin. So having combination skin as a teenager, I would now say I have normal skin with a very occasional hormonal breakout. I don't have particularly sensitive skin, so can get away with using pretty much anything.
1. First Cleanse.

I initially use a Micellar water to remove my eye make-up remover and the first layer of my face make-up. I have not yet found an eye make-up remover that removes my eye shadow, thick eyeliner and heavy mascara, so will be sticking to this for the time being. I prefer Bioderma which I have used for quite a long time, although this bottle is due to run out, so thought I would try the Garnier version to keep me going until my Paris trip in a few weeks when I can stock up on Bioderma. I have yet to try it, so not sure if it woks as well, but I have heard good things so I'm optimistic.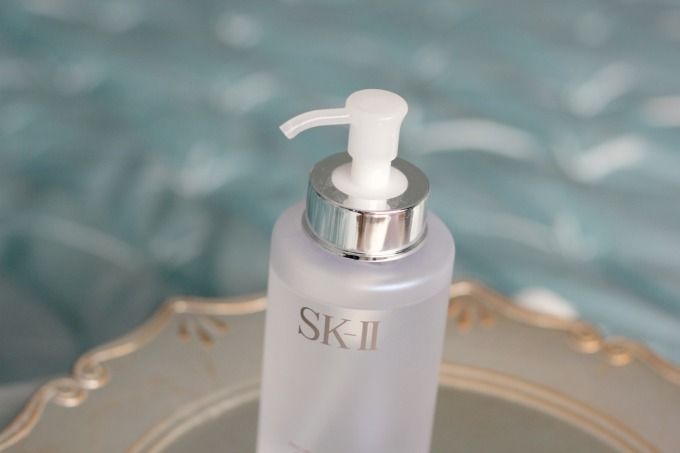 2. Second Cleanse.

I have been addicted to my Clarisonic since I bought it over a year ago and use it every evening without fail. I think you are supposed to use some kind of foaming cleanser but I still like the effect of it with both the Eve Lom Cleanser and this SKii Facial Oil that I am currently using. My face feels so clean after this second cleanse, the oil really disolves any last traces of make-up. This is confirmed when I use my toner, as the cotton pad shows clean.
3. Exfoliate. My current way of exfoliating is with the Clarisonic, without the need for any extra product. I think this does a good enough job by itself.
4. Refresher.

I have been through so many bottles of this Rosewater from Santa Maria Novella, it is so light and refreshing and not nearly as harsh as some toners can be.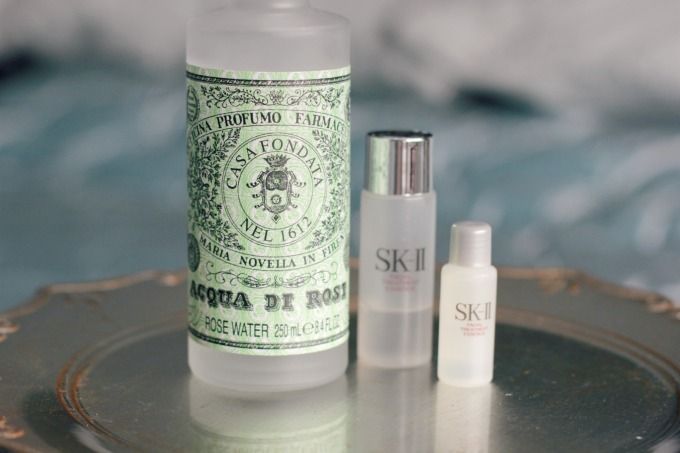 5. The Essence.

I currently only have a couple of sample sizes of the Facial Treatment Essence by SKii but fully intend to buy the large bottle once I have finished these. You only need a few drops to cover the face, so despite being expensive, it does last a long time. Described as 'miracle water' due to the active ingredient Pitera, I'm not sure yet that I would go as far as to name it that but I do feel after a month or so of use that my skin is reacting well to it.
6. The Sheet Mask.

I really love the intense moisture that a sheet mask gives for a special skin treatment. I would really love to try out the SKii version but the price puts me off a little, so I have been enjoying this one that I received in a goody bag. I will definitely try out some more, when these run out.
7. The Eye Cream.

These are the two creams I am currently using for the eye area. One for morning and one for night. As the Estee Lauder is part of the Advanced Night Repair range, I tend to use this serum along with the face serum only at night. And I use the Tarte brightening eye treatment in the morning, as that is most definitely the time post-sleep that my eyes need a little more help.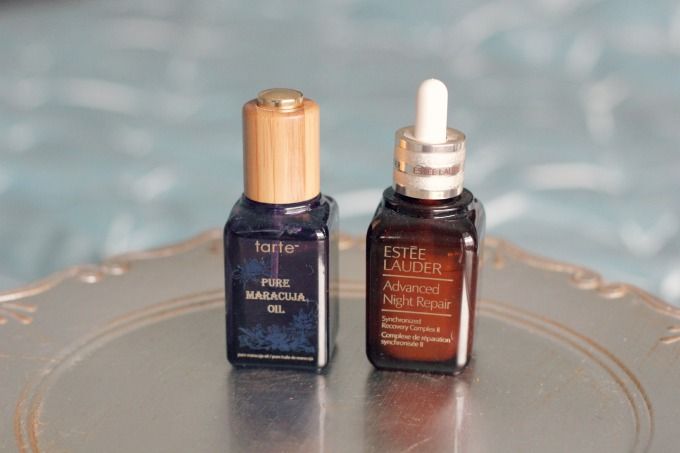 8. Serum / Night Oil.

I only use this stage at night, as I feel it would be a little too moisturising to use on a morning before applying my make-up. I love using the serum, as a cult product it is massively raved about. While I'm not sure of it's specific benefits to me, (much like the SKii Facial Treatment Essence), I feel that it is slowing down my ageing process on my face, so keeping the skin more youthful. A product I would not want to stop using. And as an extra boost of moisture I use two drops of the Tarte Pure Maracua Oil. If if I have done my Skincare Routine earlier in the evening, I will sometimes add another couple of drops of this oil just before going to bed.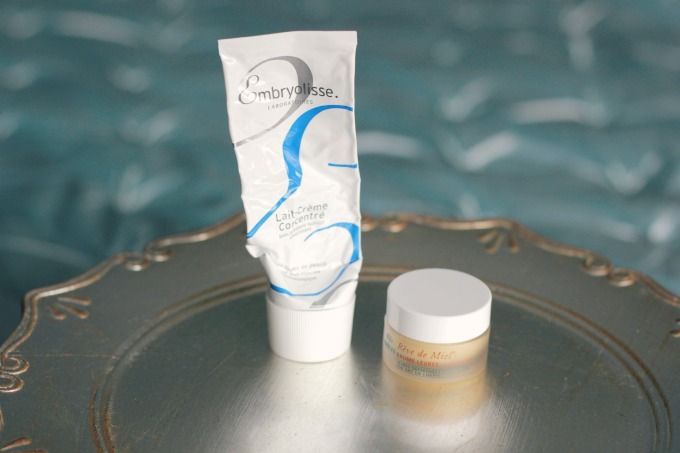 9. Moisture.

I'm really enjoying using the Embryolisse Moisturising Cream at the moment, which as you can tell is nearing the end of its' life (another Paris buy that I can't wait to stock up on). Sometimes I miss this out of my evening routine but it is the most amazing moisturising cream to start your day as it is quite light but still very moisturising and a very good base for make-up. As for the lip balm, I could not even contemplate going to sleep without applying this on my lips beforehand. Another cult buy that deservedly has earned its' reputation. I can still feel it when I wake up the next morning.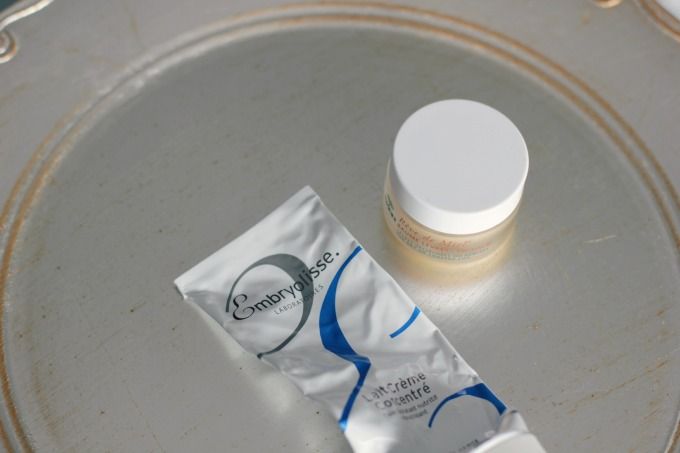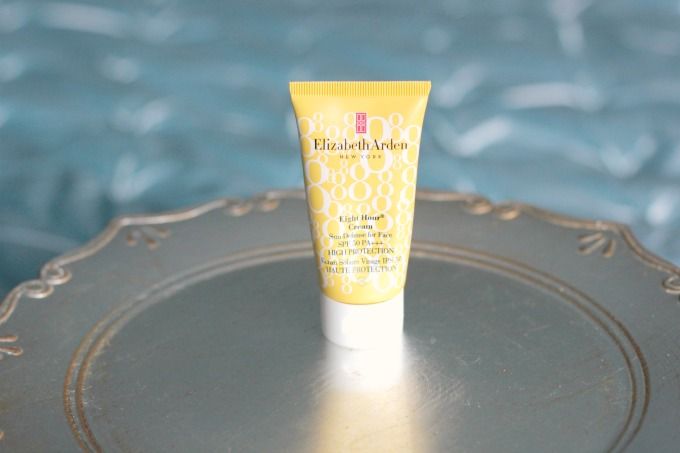 10. Protection.

My final stage (and one I obviously do not use at night) is my SPF50 protection for my face. I have been using SPF for so many years, I really think it is the not-so-secret weapon in the anti-ageing process. I look around me at skin-damaged skin and sometimes wonder why people would choose to tan themselves in such a way for the result of leathery-lined skin, so I will not leave the house without this on a morning. After using up a couple of tubes of Avene, I have switched to this one by Elizabeth Arden, as the Avene was a little too thick and white for my liking. Despite having a strange fragrance, this one feels nice and light on the skin, whilst still being a good base for make-up.