As much as I have gravitated between bright or dark nail polish shades in recent years, recently I have been returning back to the nude shades I favoured for so many years. That said, I had in my mind a particular kind of pale shade that somehow wasn't so easy to track down. It has taken a few cases of trial and error before finding the shade that I was really wanting, so thought I would share with you here today my 'nude polish journey' ;)
Peach Nude:
Chanel Emprise - Absolutely love this one but is sadly no longer available. I did manage to track down a second bottle on eBay but I will be very sad when I use that up. Two coats, with a great opaqueness and the most amazing cool toned peach. I love this all year round but is especially a favourite in spring.
MeMeMe Sensuous - This was a freebie at some point or other, quite a sheer peach and very pretty on the nails.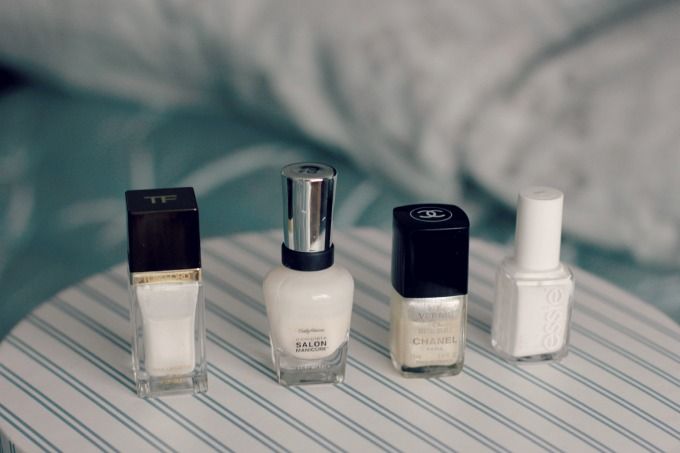 White Nude:
Tom Ford Vapor - I bought this last year as part of their summer collection. It's a very shimmery, pearlised white. Doesn't last too long on the nails unfortunately but a pretty colour all the same.
Sally Hansen Pink Slip - The first time I had tried this brand and an excellent colour to put on when I'm in a hurry as it is a 3 in 1 formula. So base coat, polish and top coat are all taken care of in just a couple of coats. This is a very pale pink/white which I really like, with the brush being another one of its' benefits. Thick and broad it makes applying the polish very easy.
Chanel Metal Argent (old) - this can be worn by itself for a sheer glitter or over another colour for a bit of shimmer. Like most glitters though, it is quite difficult to remove.
Essie Blanc - I haven't ended up wearing this to much yet. It is a very thick, opaque white. I also have my eye on the Chanel Eastern Light colour soon to be launched in the UK, although knowing Chanel it will just be a re-hash of an old favourite (anyone remember Double Blanc?)
Beige Nude:
Chanel Frenzy - cool toned grey/beige, opaque so a couple of coats should be enough.
Chanel Beige - yellow toned beige, this one really doesn't suit my skin tone very much.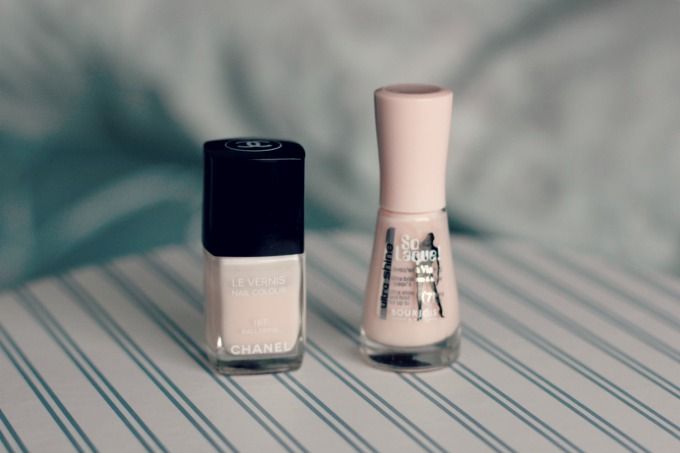 Pink Nude:
Chanel Ballerina - I really love this colour in the bottle but it needs so many coats to build up, it is so so sheer. This bottle I found on eBay also last year as it was an old colour, although they have just recently re-released it, so I am not sure if the formula is exactly the same.
Bourjois Rose Lounge - this is the colour I wore for many many years before building up my nail collection to quite what it is today. It is the most beautiful baby pink shade.
Nude Nude:
OPI So Many Clowns So Little Time - I was at the OPI counter for quite a while trying to decide which to take home with me. Their selection is fantastic and they have so many very similar shades. I'm really pleased with my final choice. It is a semi opaque, so I am applying four coats to get it to the colour I want, which is a bit of a pain. But the finally colour is totally worth it. And the name is just the sweetest.
Barry M Gelly Lychee - The first of the Gelly nail polishes I have tried,I absolutely love this colour. It only needs two coats and a top coat is not necessary. Another great polish to apply in a hurry as it seems to dry quite fast too. And finally the price point on this is the best out of all the polishes featured, I will definitely re-purchase this when it runs out, a great everyday colour.
Paul & Joe 009 - A little similar texture to the Chanel Metal Argent, this can be worn quite sheer for a really subtle wash of colour or built up.
Dior (Can't see a shade on this) - Another freebie and another sheer colour which I haven't worn that much, although the hint of gold shimmer is really lovely.