I can't say I've ever been a bad sleeper, I have been quite lucky since childhood to be able to sleep for nine or ten hours each night. That said, I had a recent three year back problem where I would be up every couple of hours with pain, so I now totally understand the trauma of insomniacs. Thankfully that episode is behind me and I am back to enjoying a regular sleep pattern. I love nothing better, ideally after an earlier pamper evening, to climb into a bed with fresh sheets and clean pyjamas or a nightie for a sound night's sleep. Here are some of my essentials that make my sleep that little bit better.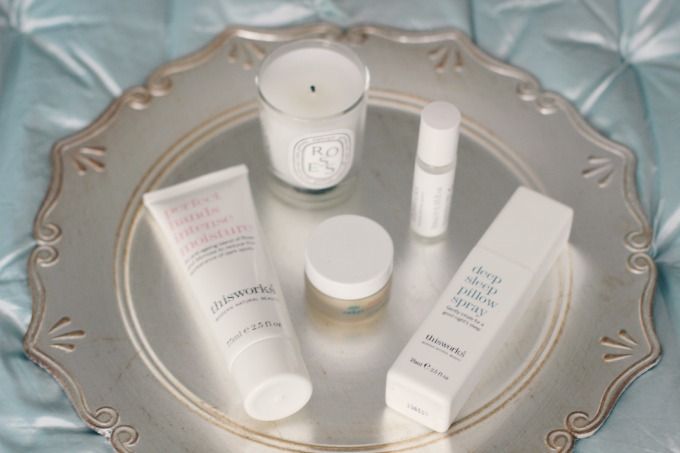 Boots.com have had an offer recently on the This Works range, buy two products to receive a free hand cream. It was the Pillow Spray I really wanted but I ended up buying also the Deep Sleep Stress rollerball too. This is the first time I have tried the This Works range and I really love it, all of the products smell so good and make me feel instantly relaxed. So I like to moisturise my hands with the hand cream, spritz my pillow with a few sprays of the Pillow Spray and roll the Stress reliever across my temples and wrists, just before turning out the light.
I also like to burn a candle for ten minutes or so, usually as I drink a cup of tea and read a few pages of a book (or on the Kindle app on my iPad). The only Diptyque candle I currently own at the moment is the small Roses candle that my boyfriend bought me for Christmas. I usually like a couple of these on the go, so I will have to purchase another soon. I really love the delicate smell of Roses but I may purchase the Lavande to tie in with the relaxing theme going on in my bedroom at the moment. And of course, I can't go to sleep without applying some kind of balm to my lips. The Nuxe Reve de Miele is probably the absolute best product for night-time use (and believe me, I have tried many, many lip balms).
I love a cup of tea to drink in bed, so comforting and cosy. This one is a Kusmi Detox, you can check out some of my other tea favourites here. And of course, it always feels better drinking from a pretty cup.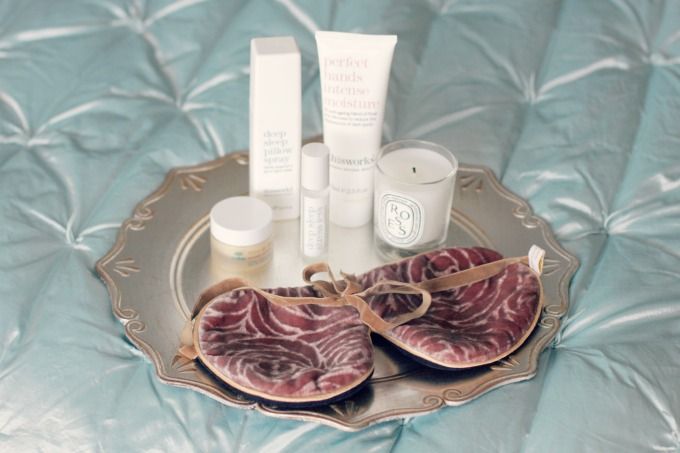 I like to wear cosy and comfortable clothes whilst lounging and getting ready for bed. These cotton bottoms are so loose and comfortable and will be really nice as the weather gets warmer. But at night-time I like my feet to be warm, so these cute socks* from Chatty Feet are perfect to slip on as they are quite thin and not too heavy to wear in bed.
As a migraine sufferer, it is pretty essential to have a sleep mask in one's sleeping kit. Owning a couple of cheaper Boots masks for years, I decided to splash out on this lavender filled one. I chose the limited edition rose velvet, I love how I can give the dried lavender in the mask a rub and it's fresh scent will be released.