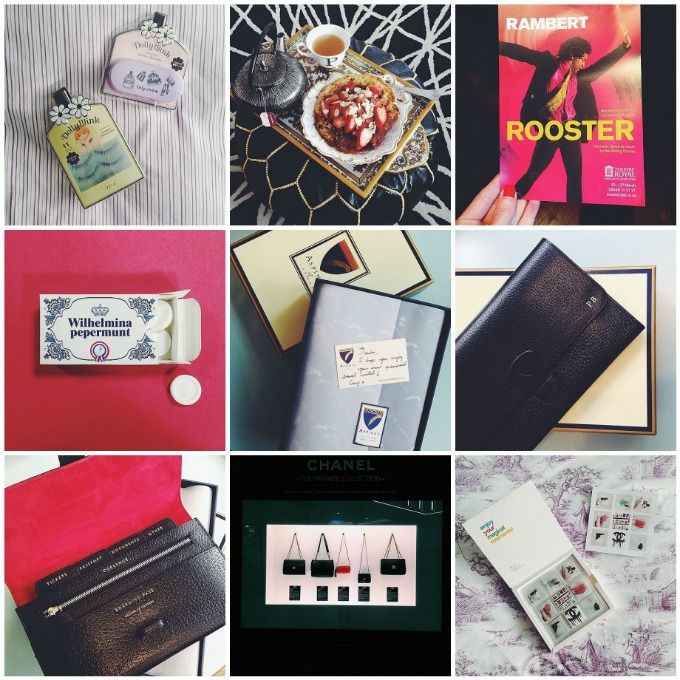 Dolly Wink Eyelashes. Pancake Day. Poster for Rambert at the Theatre Royal. Some delicious mints from Holland. Good post day - Travel Wallet from Aspinal of London. Vintage Chanel handbag collection in the window of Fenwick Newcastle. My IG pics in marshmallow form courtesy of Boomf*.
Starbucks mug from Amsterdam to add to my ever growing collection. Afternoon Tea at Wynyward Hall. On the train to the Next New In event. Couple of purchases in London - Fresh Rose Sugar Lip Treatment & Kusmi Chai Tea.
The Cumberland Hotel in London do the best breakfasts - 1: Belgian waffles with maple syrup, glass of orange juice & a latte; 2: Fruit with yoghurt, muesli & granola, orange juice, cup of chai; 3: Cheese omelette with a cup of chai. In my make-up bag: Chanel case, Chanel eyeliner & mascara, Chanel creme blush, Dolly wink lash glue, Fresh lip balm, Nars Multiple Stick, Estee Lauder powder, Bath & Bodyworks Pocket-bac, Tom Ford lipstick, silver tooth-pick, migraleve, nail file, comb. Pinkberry at Selfridges. Macaron cave at Laduree, Burlington arcade. Lovely display in Anthropologie. Best tube ad - Wes Anderson's The Grand Budapest Hotel.