Today is a short tour around my bedroom, or more specifically my dressing table. I have used for many years a Make-Up Artist box from Sephora but fancied a change. Of course I had seen the Muji storage system on many a blog and YouTube channel but it was not until their recent beauty event with discount that I decided to make the splurge.
My dressing table is actually a mahogany desk with matching chair that I saved up for as I was purchasing my first poperty. So it is much bigger than a dressing table and has a lot of space to sit down to apply my make-up as well as a very good blogging station :-) I browsed the Muji site to see what was available and then measured the exact space I wanted to allocate on the table. I then decided on two of the wide two-drawers, with a single wide drawer to place on top. And the same again to sit next to it. Then one of the four drawer units to stand to the left. And finally two of the round pen pots to house some eyeliners etc.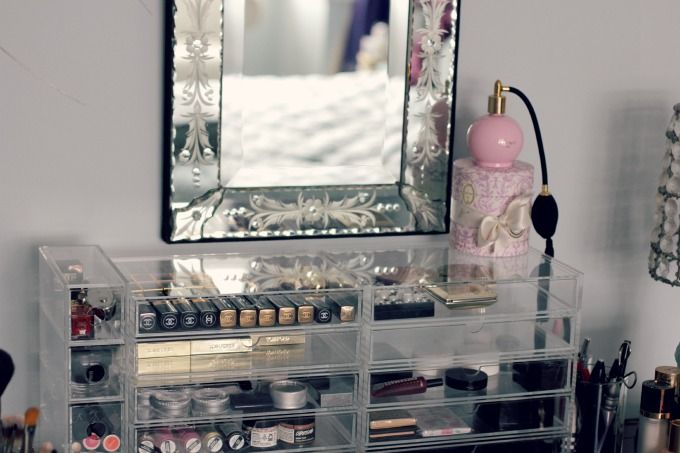 I measured so the units fit just below my Venetian mirror. And still have space to fit some taller items for decoration, in this case the Laduree Room Spray.
Starting with the left side, the first drawer contains all of my high end lipsticks from Tom Ford, YSL, Dior and Chanel.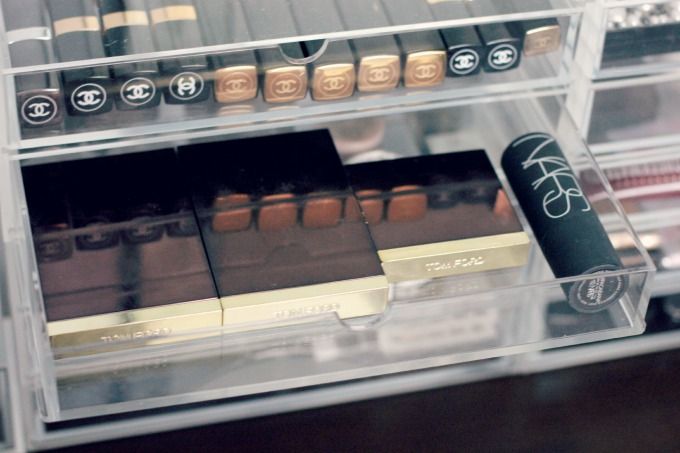 The next drawer fits some Tom Ford Eye Palettes and Blusher and my Nars Copacobana Multiple Stick.
Next drawer is a selection of eye-shadows from MAC, Urban Decay, Dior, Smashbox, Stila and Clinique as well as an eye-liner pot from Paul & Joe.
This drawer contains some make-up PR samples I received from Lush* a while ago - skin tints, lip gloss, mascara etc.
And finally on the left side is a drawer for some MAC and Paperself* lashes as well as some free gifts and samples.
The top drawer on right side fits my prettiest compacts from MAC, Paul & Joe, Guerlain and Estee Lauder. The true beauty of this acrylic storage is that the beautiful cosmetic packaging can be on show whilst still being tidy.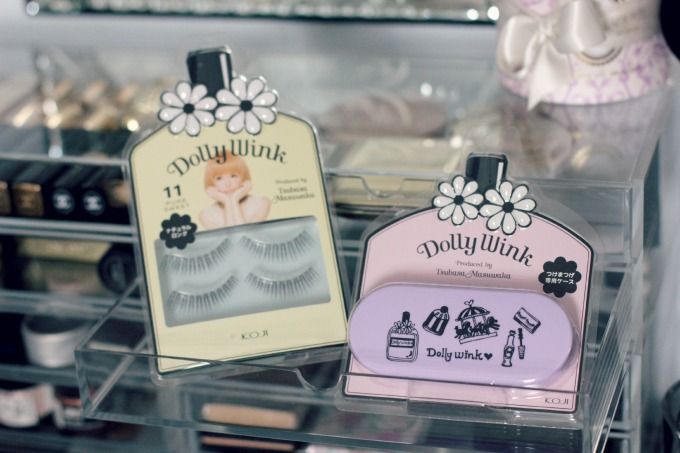 Some more lashes and lash case from Dolly Wink, that I am yet to try.
Next drawer is a Chanel bronzer, lip balms from Eve Lom, Top Shop and Dior. Also a skin tint from Soap & Glory, concealer from Estee Lauder, cream blush from Chanel and some pencil sharpeners from Chanel and Nars.
Then we have some blotting sheets from Chanel, Sephora and a drugstore in NYC as well as some loose powder from Chanel.
Last drawer on the right is a selection of palettes from Chanel and MAC that I no longer use too much.
At either side of the storage I have some gilt trimmed trays from Fenwick that I use for bottles and jars etc. The tray on the right side has a glass full of MAC lipsticks, YSL Touche Eclat Foundation, Tom Ford Primer, Chanel Foundation, Estee Lauder Double Wear Foundation, Nars Highlighter, Paul & Joe Nail Polish remover. A small Macaron trinket box and old Diptyque jar filled with tweezers, nail scissors & clippers, small brushes and Tom Ford primer samples.
The tray on the left has a vase full of make-up brushes and a glass of Kabuki brushes. As well as a loose powder puff from Paul & Joe.
The box to the lift of the drawers is used to fit some Tom Ford nail polishes (that don't fit in with the rest of my collection), a Guerlain lipstick, Chanel eye-shadows, some lipsticks by Top shop and Nars and finally some Korres lip products.
The two pen pots are used for Nars and Top Shop lip pencils, Chanel eye-brow pencil, eyeliners, Lancome Hypnose Mascara and my Shu Eumura eyelash curler.
And that is it, my new storage system. I am finding it incredibly easy to use, everything is at hand and easily accessible. A very good purchase that I am very pleased with.