I have built up this brush collection over a number of years. A friend had a MAC Pro card a few years ago which gives around a 30% discount, so I made the most of it at the time and began my brush collection. Since then I have been given a few brushes by The Body Shop* (a couple of years ago) and have bought some from E.L.F. and Chanel (which are my favourites so far). I thought this post may be interesting to some of you with an interest in beauty application, I'll link as many as I can find underneath the pictures.
First up, storage. At the moment I am storing my large brushes in this fluted vase from John Lewis (bought several years ago) and my smaller brushes in a small Marimekko glass. The large brushes are outgrowing the vase, so I am just waiting to use up my latest Diptyque candle, and I will use that to split up the larger brushes.
I have three Kabuki brushes, the two on the left from E.L.F. and the smaller on the right from Chanel. I use the Body Brush for a light dusting of bronzer in the summer, the smaller kabuki for face powder application and the Chanel Kabuki for powder blusher. I would absolutely recommend the brushes from E.L.F. They are very good quality at a very inexpensive price.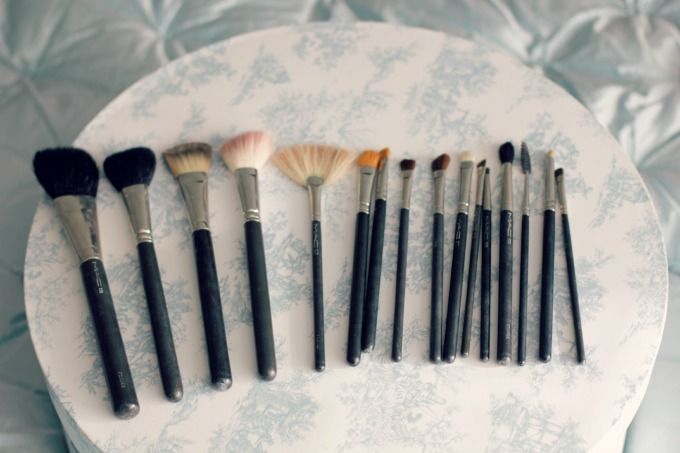 This is the rest of my collection laid out - a selection of powder, foundation, concealer, eyeshadow, blending, eyebrow and eyeliner brushes from MAC, Chanel and The Body Shop.
Powder brushes l-r: Chanel No1 Poudre Brush, MAC 129 Powder/Blush, MAC 168 Large Angled Contour, MAC 116 Blusher, MAC Fan Brush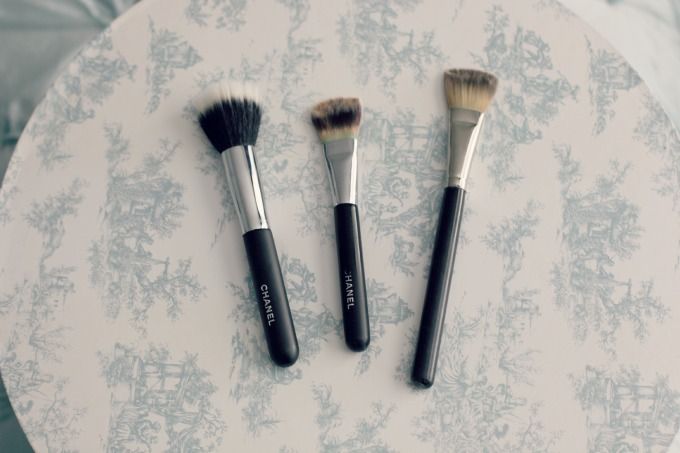 Foundation Brushes (l-r): Chanel Buffing Brush, Chanel No 6 Foundation, MAC 190 Foundation. I would absolutely go for a buffing brush over a traditional foundation brush after trying them both. I find the buffing brush gives a much more natural application and helps my make-up to last the day. For some reason the Chanel buffing brush does not seem to be available at all Chanel counters.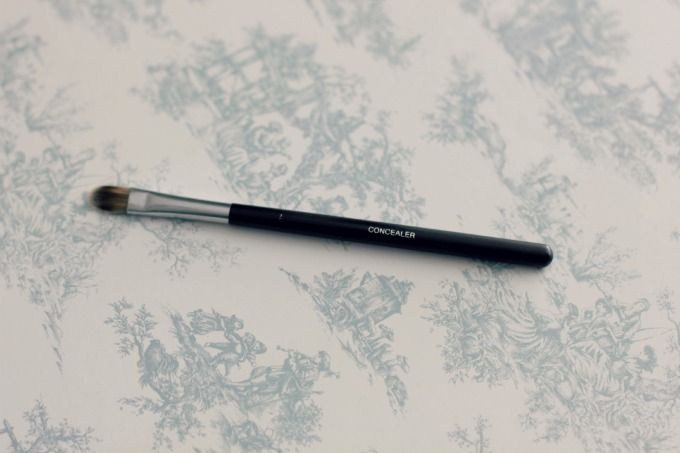 Chanel No 10 Concealer Brush
Eyeshadow Brushes (l-r): MAC 252 Large Shader, MAC 242 Shader, MAC 275 Medium, Angled Shading, MAC 224 Tapered Blending, MAC Small Eyshadow, The Body Shop Large Eyeshadow*, The Body Shop Small Eyeshadow*, MAC 239 Eyeshader
Detail brushes (l-r): MAC 210 eyeliner, MAC 208 Angled Brow, Chanel No 14 Contour, MAC Small Shader, The Body Shop Angled*, MAC 219 Pencil, MAC 204 Lash
Are there any brushes missing from my collection? Or any brushes you would recommend?