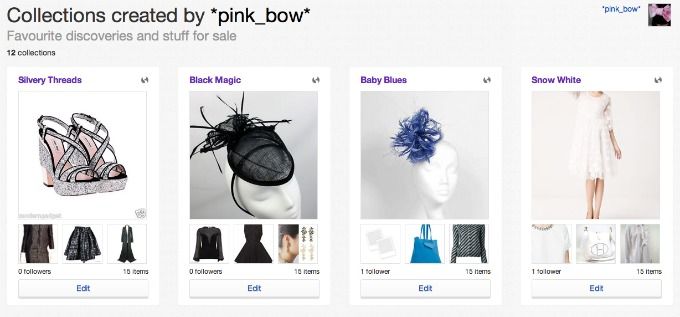 I'm sure by now you will be fully aware of eBay's latest launch, eBay Collections. It was launched on 6th March, headed up by 'celebrity tastemakers' Reggie Yates, Dannii Minogue, Kelly Hoppen MBE and Alex James as well as notable bloggers Susie Lau (Style Bubble) and Sasha Wilkins (Liberty London Girl). In addition to this, behind the scenes many of us other bloggers were also asked to take part in the project.
In case you're not familiar with the concept, eBay have launched their Collections feature as a way of creating a more personalised and interactive shopping experience on the eBay site, a way of connecting people to products.
I already spend many an hour browsing eBay and have found collating my new collections rather addictive. I have a list of key words on hand that I keep returning to, so I can search for those things I am constantly on the hunt for. Now, my eBay shopping experience has moved up a notch. I can create my own boards - 'Collections' with a specific theme and keep adding to them and keep my inspiring finds in one place.
I have created 12 Collections with 15 pieces in each, and chosen a colour theme for each Collection. My boards are all fashion-related, with a mix of high-end, high-street and vintage finds. Not all of the pieces I can afford but oh my, I do love looking at all my dream buys in one place. I like the idea of building my dream wardrobe within one Collection and seeing all of the pieces sit side by side. I'll be updating my Collections on a regular basis, as so often my dream finds sell out, so be sure to check out my PinkBow Collections - here.