So I'm using the term 'recipe' here very loosely. It's really just a case of opening the fridge door and collating whatever looks interesting onto a plate. These are three meals I have been enjoying lately. I've been eating a lot more raw fruit and vegetables for quite some time now, my taste-buds have really become accustomed to the freshness and these meals really are quite delicious.
Salad of raw carrot, broccoli, cauliflower baby spinach, roasted tomatoes, green pitted olives and cubes of cheese in a chilli dressing. With a splash of lemon, some Maldon salt and black pepper. (The carrot / broccoli / cauliflower is in a ready-washed pack from Sainsburys and the olives / cheese / tomatoes are in a ready-made pack from Sainsburys. So easy to put together). With three Quorn Scotch eggs on the side for protein. And a glass of water with freshly squeezed lemon slices. The presentation of my food always makes such a big difference to me. Somehow if it looks good, it makes the food taste better. I have quite a large collection of vintage china that I have collected over the years. This painted enamel tray is also a favourite which I often get asked about, so I will link the details below.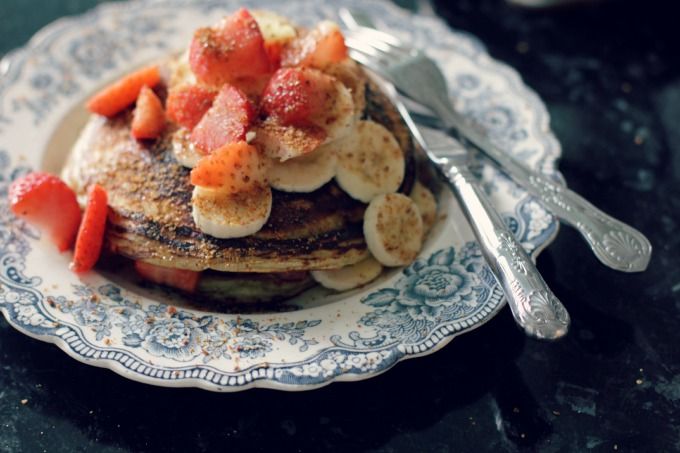 Buttermilk pancakes. A lower calorie version of normal pancakes.
(Let me know if you anyone would like the recipe and I will add it in).
Edit: a few asked for the recipe, so here it is -
125g plain flour;
1tsp salt;
1tsp bicarbonate soda;
1 whole egg;
250ml buttermilk;
50g butter, melted.
Preheat and lightly grease a large frying pan (I use the 1-cal spray). Mix the flour, salt and bicarbonate together in a bowl. Add the egg, buttermilk and butter but keep it lumpy as the batter should look thick, spongy and puffy. Drop 5 tbsps of the batter onto a pan, spreading lightly with the bottom of the spoon. Cook until lightly-browned each side, 1-2 minutes each side.
I make up one batch which I split between two servings, usually on a weekend it is a nice treat for Saturday and Sunday mornings. Sometimes I make the small American pancakes but this day I decided to make two large pancakes. I'm going to try experimenting with different types of flour next time, to make it even healthier. I sliced in some strawberries and a banana. And added some Agave Nectar for extra sweetness and Flaxseed with Goji Berries for some protein. A very nice breakfast / brunch. Also a pot of Kusmi Christmas tea, that I am still drinking as I still love all of the cinnamon spices, even though it is past the season. I love the tea ceremony which comes from drinking out of my J
apanese tea pot
. And of course vintage china is a must (or this teacup from Anthropolgie is a very good alternative).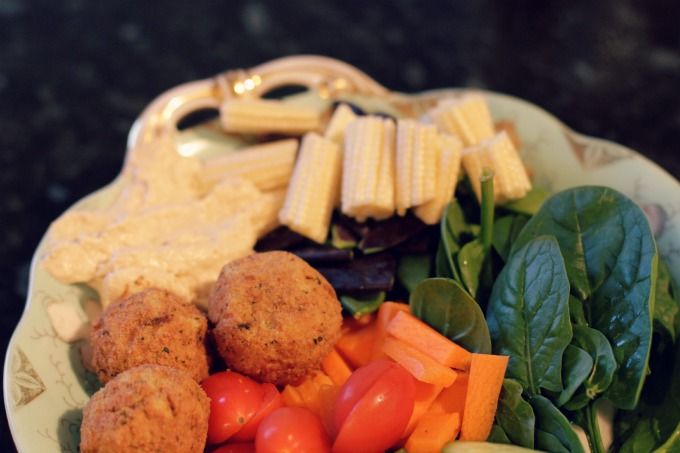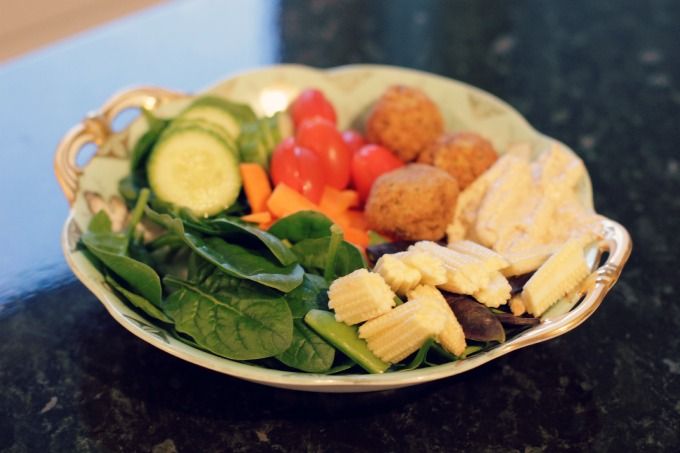 Another raw salad. This time cucumber, plum tomatoes, baby spinach, baby sweetcorn, purple and green mangetout, carrot. With a side portion of hummus and three falafel.
~~~~~~~~~~~~~~~~~~~~
Featured Products:
Novica Glass Enamel Painted Tray * (similar here and here)
Vintage green plate (similar here)
Vintage shell plate (similar here and here)
Japanese teapot (similar here and here)
Kusmi Tea
Vintage blue plate (similar here and here)
Vintage blue teacup (similar here and here)