Before Christmas I was asked by UK high street fashion and interior store Next, to choose three interior items within a £100 budget. I would be supplied with some cut out speech bubbles and Sharpie pen to write three tips using the products I chose. These were to be used across their social media channels, but I thought it would be fun to share them here too. The items I chose were two glass jars in different sizes and a foldable brass-tone table.
Tip 1 - Dress up an empty window sill to make a decorative still-life vignette using pretty glass jars.
I most definitely am not a minimalist, I love things way too much for that. The interiors that I pour over in magazines and on-line are those homes crowded with objects, the more eclectic the better. So an empty window sill in my bathroom would not be to my taste, instead I like to fill it with pretty objects. In this case the two Next jars, a crystal candlestick bought from an antique shop years ago, and some candles.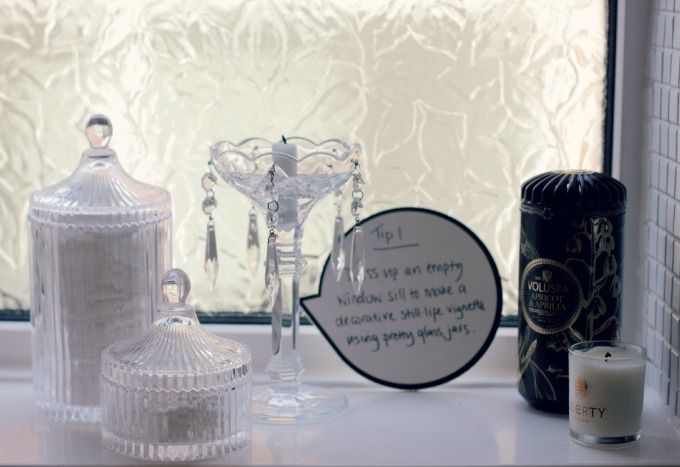 ~~~~~~~~~~~~~~~~~~~~
Tip 2 - Hide away boring, daily beauty essentials in some vintage-inspired glass jars.
As an aesthetic-lover, I can't bear any item to look ugly. So I love to dress up even the most boring items like cotton wool and buds into something a little more attractive. The two different sizes in the jars were absolutely perfect to store my cotton wool and cotton buds that I use on a daily basis.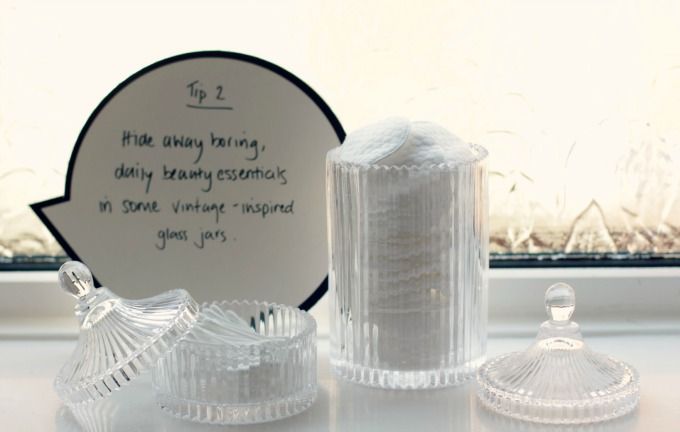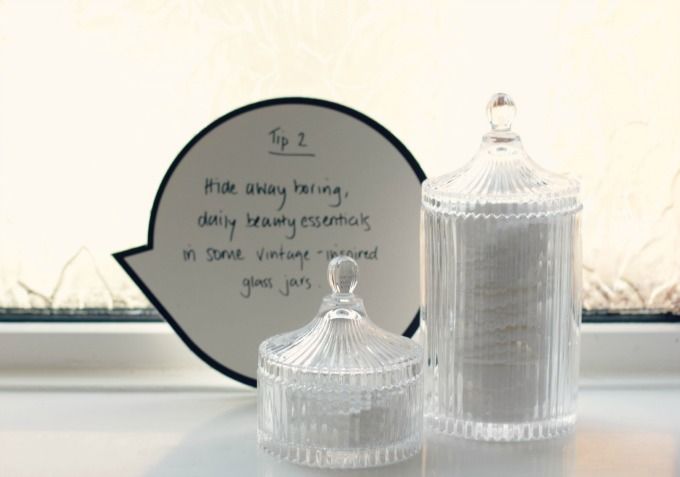 ~~~~~~~~~~~~~~~~~~~~
Tip 3 - Use a fold-away table as a glamorous serving tray for guests.
(Make sure to use your most decorative glass-wear and vintage china, to make the most eye-catching display).
Having friends and family round to my flat is an excuse to get out my most precious collectables that have been lovingly found over the years from markets and the like. Mismatched is the best, as so many different looks can be made up. And of course you need something to serve the drinks and nibbles, so my third choice was this foldable table. I am most likely not going to be serving this food on a daily basis, so it is very good to be able to hide away when not in use. The china plate and dish are from a flea-market, glasses from Ikea, decanter from a charity shop and candle votive from Fenwick.