Many many months ago, I was sent this range of Kerastase hair products* from Regis Salons. It has taken me a while to get this review up, as with all beauty products I like to be able to give them a really good test run before offering my opinion.
I was sent some products from the Kerastase Couture Range:
Designer (the green packaged products) - Mousse Bouffante, Spray A Porter & Forme Fatale, Lift Vertige, Boucles d'Art
Perfector (the purple packaged products) - Laque Couture, Gloss Appeal & Touche Finale
Firstly, I will give a brief overview of my hair type and condition. I have quite frizzy hair that hates damp conditions and that needs to be straightened daily. It is coloured using a semi-permanent colour every month and as a result of this has an amazing shine. I used to wash, blow dry and straighten every day but over the last few months have tried to cut down, by washing and blow drying every other day and trying to wear my hair up on occasion, so that I do not have to straighten every day. Dry shampoo has been my saviour with this new process. I can pretty much use any shampoo I want, so usually just buy whatever is on offer at Boots. I always use a very inexpensive coconut spray leave-in conditioner, which really helps with tangles and smells gorgeous.
I tend not to use too many after products, other than a dry shampoo which gives some volume and texture. And these are the two things I have mostly been looking for when buying any new products lately. As I straighten my hair, it can often look a little bit too flat and glossy, so I am always on the look-out for something to make it a little messier, duller and thicker.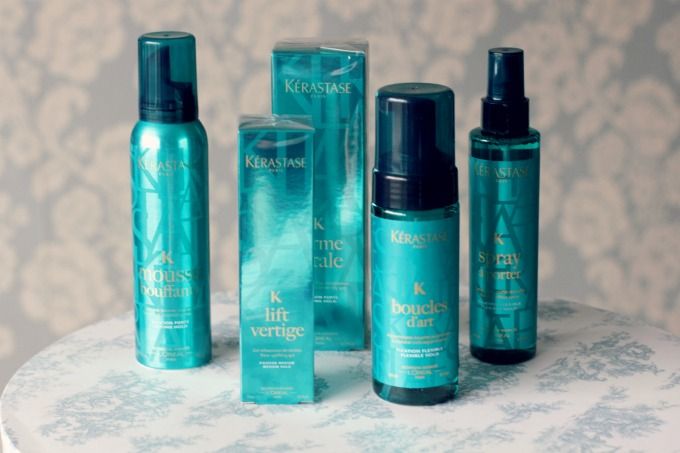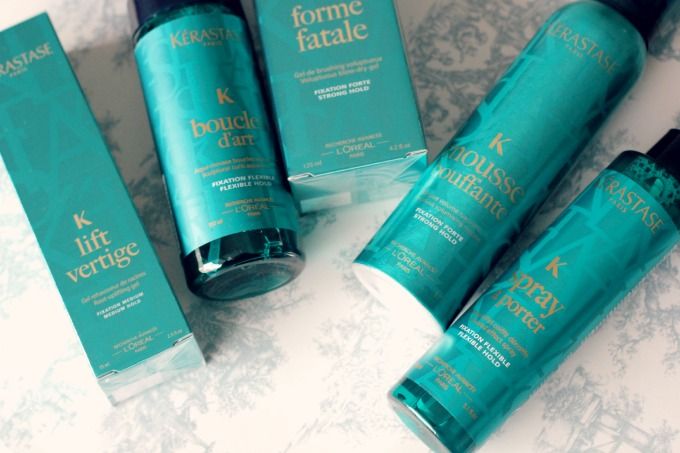 The Designer part of the range are the volumising products. I was a little concerned when reading the labels on these products that they wouldn't suit my hair particularly well, as they appeared to be for curly or wavy hair. But I have been using them anyway and needn't have worried as they give my hair an incredible thickness without feeling like I actually have any product in my hair. I have been using in particular the Forme Fatale which is a Voluptuous Blow Dry Gel and the Spray A Porter which is a Tousled Effect Spray. Both of these I apply to my damp hair before blow drying and seem to just coat my hair in volume making it very easy to mess up and give the effect I want. I haven't used the Mousse Boufant (a Lush Volumising Mousse), Boucles d'Art (Aquamousse Designed Curls) or Lift Vertige (Root Uplifting Gel) so much yet, as I feel that the other two are probably more than enough together. But I will get on to using them when I run out of the others. I have given them all a try and they are all equally as effective in giving the voluming look they promise.
The Perfector part of the range is exactly what it would suggest, giving a sleek and glossy finish to styled hair. Having straight hair, these are the products I have always gone for in the past. After using the Designer products on my damp hair before styling, I use all of these products post drying and straightening. Firstly, the Touche Finale which is a Shine Polishing Serum, to smooth down any stray hairs, usually along my parting. I then give a spritz of the Gloss Appeal, Instant Shine Top Coat Spray and finally finish off with a spray of Laque Couture, a Fusional Fixing Laquer.
I have gotten into the habit of using these on an almost daily basis, I love them so much. However I am aware they are at the higher price-point than your standard hair products, so may start cutting down on their use soon to make them last a little longer. That said, I would have absolutely no hesitation in buying these products again as they give the most fabulous results.