Not enough pictures last week for a weekly roundup, so here is my fortnight instead. Also I have been doing the December Photo A Day challenge on Instagram, so will have that to upload tomorrow.
Some new beauty buys from Dior, I really like this Dior matte lipstick. Some festive snacks - gingerbread form Next with a cup of chai tea and a candy cane. Increasing my collection of Christmas dvd's. A Saturday morning in bed watching dvd's and eating some Asda Christmas crumpets with a pot of tea. Pre-Christmas dinner at Blackfriars restaurant in Newcastle. The stunning sunrise as my dad and I set off on our annual Christmas Eve day trip. Inside Betty's.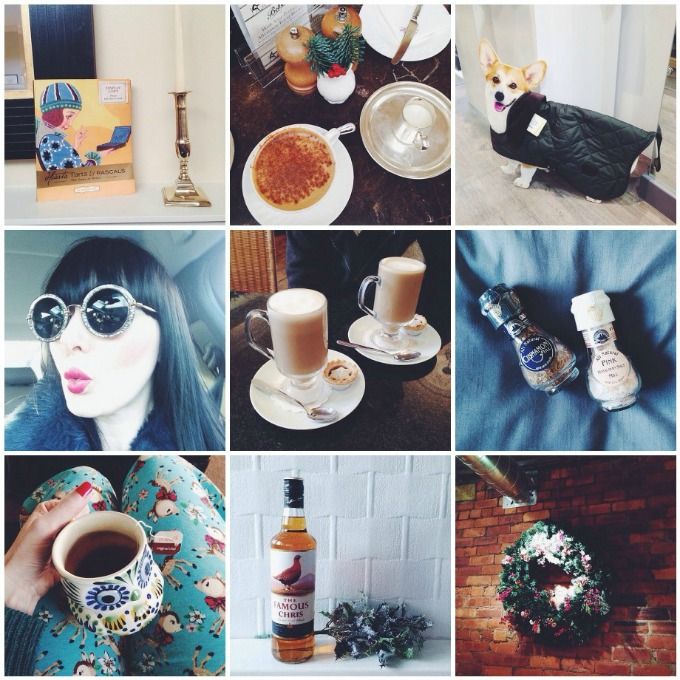 Reading up on the history of Betty's and drinking a Latte Latino, forgetting to take a pic of my Fat Rascal before eating it. Cute little Barbour dog jacket on a cardboard cutout dog. Bright and sunny Christmas Eve meant I could wear my new Miu Miu sunglasses. Another coffee stop with Irish Cream lattes and mini mince pies. I bought a couple of things from lovely deli Lewis & Cooper. Cosy Christmas day with novelty pj bottoms from Asda, wooly jumper from Whistles and new owl mug from Anthropologie. My dad loved his personalised whiskey bottle from Famous Grouse. Looking at the amazing Christmas wreath decorations in The Bridge Tavern pub, I will be so sad to see Christmas over this year.