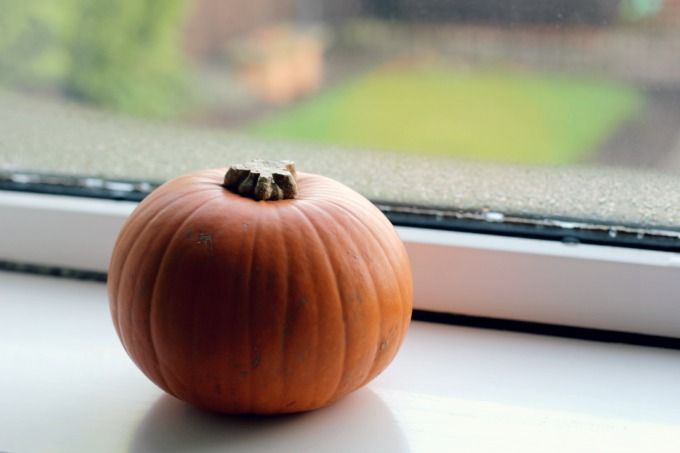 Our American counterparts will not understand, but here in the UK the flavouring of Pumpkin Spice has only just landed onto our shores around a year ago, with the eagerly awaited Starbucks Pumpkin Spiced Latte. As far as I can see, we do not have readily available the various pumpkin based products in our supermarkets. So I managed to find on-line a traditional method to make some of my own Pumpkin Spice. So good to add to breakfasts, coffees and cake recipes. Although we are soon to move away from pumpkin season, last weekend I managed to conjure up a few end of season pumpkin treats of my own.
Pumpkin Spice Mix Recipe:
1/3 cup ground cinnamon
1 tbsp ground ginger
1tbsp ground nutmeg
1-1/2 tsps ground cloves
1-1/2 tsps ground allspice
Last weekend was forecast the most perfect autumn weather - cold, windy and rainy, weather that makes me want to stay cosy at home baking. Watching my food intake over the last few months though, means baking at home is not always the best idea. So I managed to find a relatively low-calorie and low-fat pumpkin cake recipe. It may not be too pretty to look at but it tastes deliciously spicy, perfect with a cup of pumpkin spiced coffee.
Pumpkin Loaf Cake Recipe:
Ingredients - 200g (7 oz) plain flour
1 1/4 tsp bicarbonate of soda
1 tsp ground nutmeg - or pumpkin spice mixture (above)
255g (9oz pureed pumpkin)
200g (7 oz) dark brown soft sugar
110ml (4 fl oz) buttermilk
Directions - Preheat oven to 180c / gas mark 4. Sift the flour, bicarbonate of soda, salt, cinnamon, and nutmeg into a large bowl. Mix in the pumpkin, brown sugar, buttermilk, egg and butter until well blended. Pour into a 23 x 12cm (8 x 5in) loaf tin and smooth the top. Bake for 1 hour in preheated oven, or until a cocktail stick inserted into the centre comes out clean. Nutrition - Calories: 161.2 kcal; Total fat: 2.7g; Saturated fat: 1.5g; Salt: 417.1mg; Protein: 2.7g
Pumpkin Spiced Coffee Recipe
(2 small cups)
1 heaped tbsp strong ground coffee (and necessary amount of water to suit coffee pot)
1/2 tsp pumpkin spice
2 tsps honey
200ml almond milk
Directions: Brew the coffee with the water in coffee pot of choice. While the coffee brews, stir the pumpkin spice into the honey until completely blended. Set aside. Pour the cold milk into a microwave-safe bowl, the edges of which should come up a bit higher than the milk. Use hand-held whisk (Areolatte or cheaper Ikea version do the trick extremely well) and whisk the milk until frothy. Then heat the milk in the microwave, the milk should froth up more. To serve the coffee, pour the hot coffee into a cup and stir in the honey-spice mixture until completely dissolved. Top with the hot milk, spooning the foam on to. A dash of some additional ground pumpkin spice is a nice touch. Serve immediately.