I seem to have developed a bit of a weakness for iPhone cases - but who doesn't, right? I think of them as a quick outfit change for my phone. I get bored easily of carrying around the same gadgets, these smart phones which in our society today we are so addicted to. So for me, and so many others, the personalisation of the iPhone is the ideal solution. Here are most of the collection I have acquired for my iPhone 5 over the last year...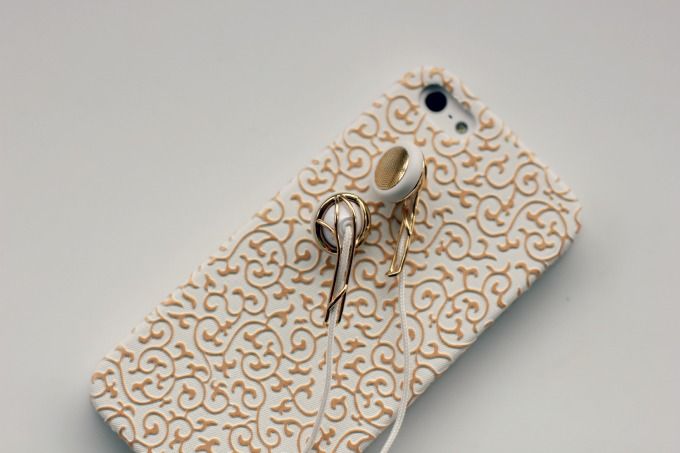 Currently wearing... a white and gold number from Etsy. I must admit I only bought this one to match the Frends* ear-phones I have been lusting after for a while, sent as a thank you for taking part in a short Blogging-on-the-Go interview.
Caseable * contacted me so long ago to pick out and design a case of my own. I didn't get in touch with them for quite a while, as I was planning on changing phone and really just couldn't think up a good idea for creating my own design. But in the end, I opted for something simple... and blog-related ;-) I found a pink bow design I liked and emailed it to them. I also had the chance to select one of the pre-designed cases too, so chose this simple French pattern.
I think these cases are some of my favourites so far. As you will see from some of the cases I have purchased below, they tend to get dirty after a while. I really love light pastel colours, but depending on the material used for them, can get dirty being used so much each day. And once dirty, if uncleanable, I go right off them.
The Caseable cases are made using recycled polycarbonate from plastic bottles. They have a wonderful grainy texture to them and despite being light coloured have not discoloured at all, even though I have been using them both a lot since I received them. They are very sturdy and look unlikely to crack - again unlike some of the cheap cases I have bought for myself below.
You may remember the coffee case from this post, sent to me by Iconomesis*. And I bought the Harrods case on my last trip to London. I really love the old-fashioned design of the Harrods sweet shop.
I used these quite a lot last year, and had one in a light silver colour too (you can see here). They look really pretty on an iPhone but are absolutely no protection whatsoever. They are quite delicate too, hence the demise of the silver version. These were all found on eBay.
The 'Melt' case was a very early buy and one I still really like now, although I haven't used it for a while. I found it on Amazon, they are available in a lot of different colourways. Being the huge Chanel lover I am, I was quite excited to find this Chanel nail polish bottle case on Etsy. Unfortunately when it arrived it was of a very cheap quality, with only a sticker stuck on to a cheap plastic case, so I have not ended up using it at all.
I went through a stage of favouring the sheer look for my phone. You may remember the pink case from this Girly post, sent to me by Phone4U*. The other I bought from a high street shop I can't remember the name of and is a prime example of a discoloured case that I will no longer use.
Very inexpensive cases from eBay at 99p each. I originally bought the case on the left in peppermint green which I loved, it has a super slim design and really accentuates the iPhone 5. But unfortunately it cracked after only a couple of days (as you would expect for 99p!), they sent me another to replace it but sent out the wrong colour.
Another couple of plain inexpensive buys from eBay.
I think these were the very first two cases I bought for my iPhone 5, the one on the left now sadly very dirty. But still so pretty. Both of these were bought from Amazon.
See also...