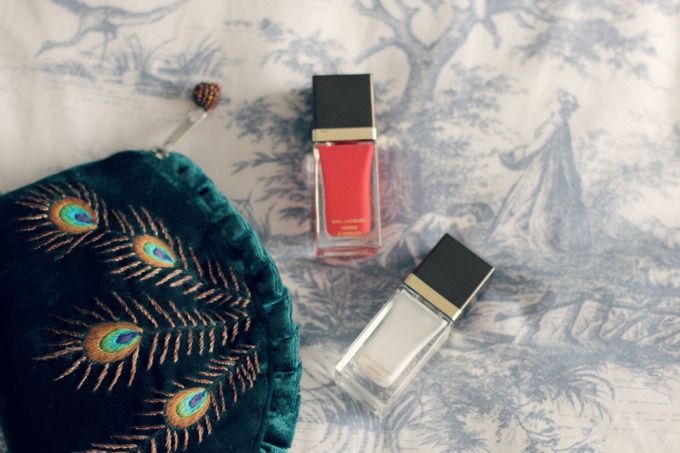 One beauty brand I have been enjoying using lately is the Tom Ford range. This is a brand I almost wish I had not discovered and started using, as I think the quality is so high that now the other brands I use don't quite live up to it. I already mostly use only high-end brands, but the cost of this range is on another scale. That said, most of these I have had for months up to a year, and although I don't use them all every day, they have lasted me well. Also when looking at the weight of some of these products compared to others, you are getting a lot more product for your cash - for example, the last Chanel eye-shadow quad I bought cost £38 for 1.2 grams but this Tom Ford quad has cost £62 for 10 grams - a huge difference in price between the two and not something I would usually think to check and compare.
I wouldn't say the nail enamel is my favourite, it hasn't taken over Chanel for me. But I still like it, despite becoming quite thick as it reaches around half way. I absolutely adore the lipsticks and will definitely re-purchase once I have run out, which will unfortunately be fairly soon. And I think the three colours I have bought - Cherry Lush, One True Coral and Flamingo are pretty much the most perfect three shades that will carry you through most make-up looks. They are the most amazing consistency of high pigmentation, long lasting wearability with just the right amount of sheen, without being either glossy or matt.
I have been wanting to try a foundation primer for quite a long time now. I tried a Laura Mercier primer many many years ago and for some reason stopped using them. I have since sampled a Giorgio Armani primer and was given one of these small Tom Ford samples with another purchase, and this one most definitely won. It gives a beautiful smooth luminous base to my foundation (currently alternating between the slightly matt Chanel Perfection Lumiere and the more sheer YSL Touch Eclat base) and would most definitely consider a re-purchase if it wasn't for the hefty price tag (I will most likely look for a cheaper alternative).
The eye-shadow quad was a recent gift from a friend, I had been searching for a perfect neutral palette that I can wear every day and which will look good with both blue toned and orange toned lipsticks. It is a brown palette afterall, so therefore mostly likely to be warm toned but with the name of Silvered Topaz, won me over as being quite cool toned so suits all of my lipstick shades.
Finally, onto the last Tom Ford product I own which is the powder blusher. Being a cream blusher user for many years, it took me a while to even contemplate using this product. I've always preferred a cream or tint, thinking it looked most natural on my pale skin. But actually this very deep and highly pigmented pink shade is perfect on the apple of my cheeks when applied with my small Chanel kabuki brush. I think it helps that it has a slight sheen, which I love as I think it helps it to look less 'powdery'.
So that's my collection to date. I'm not sure yet if I will try more products from the range. But I'm interested to know if you have tried the Tom Ford range? And what you think of it or the products you would recommend. Please do leave a comment!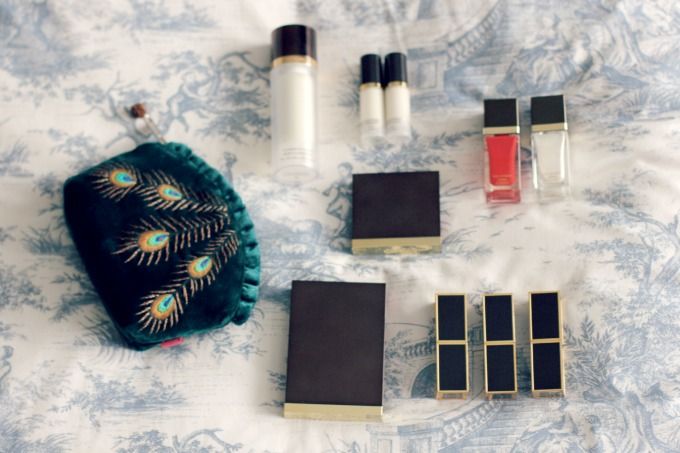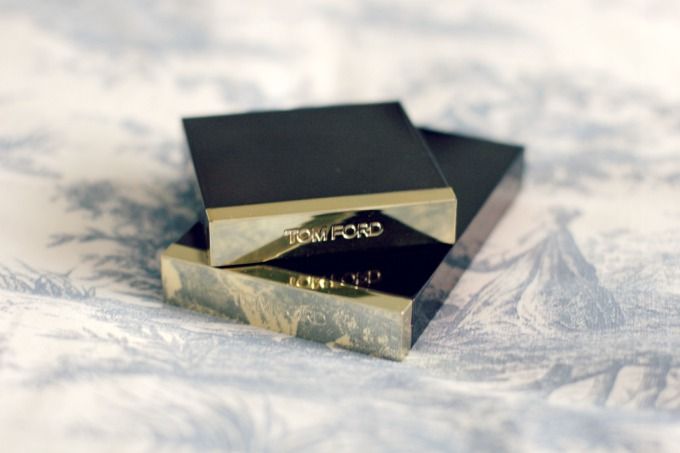 Products shown:
Nail Lacquer - 12 Coral Blame and 23 Vapor - £26
Lipsticks - 08
Flamingo,
09 One True Coral,
10
Cherry Lush - £36
Illuminating Primer - £52
Cheek Colour - 06 Wicked - £45
Eyeshadow Quad - 05 Silvered Topaz - £62