So the sunshine keeps teasing us this year with the promise of good things to come. Which has inspired me to put together a little collection of holiday essentials. I am missing a beach towel and sun block but the rest of the necessaries are all here -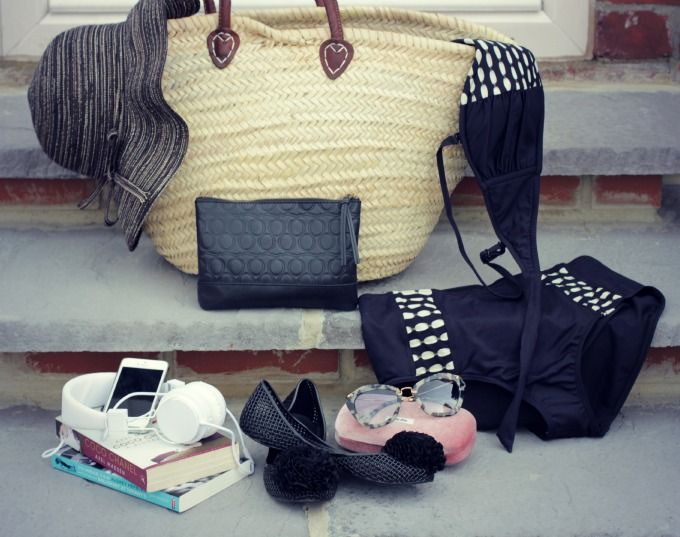 A large straw basket for fitting in all of the essentials - I bought two of these last year, little and large but didn't really get chance to use them.
A large floppy hat - bought very inexpensively from a cheap shop I don't even remember.
My newest bikini - I have been on the hunt for a vintage-style bikini for a very long time and absolutely adore this one from SimplyBeach. It is by the brand Baku Australia, a bandeau style bikini top with a sweet tie at the back which you can wear strapless or not. And the matching high waist pant - it is these which give the set it's vintage vibe, I think.
1950's Style Cat-Eye Sunglasses - these are a tortoiseshell pair by MiuMiu, ordered via SmartBuySunglasses UK - don't forget I am hosting a giveaway to win your own pair of glasses here.
The very essential tunes to listen to whilst relaxing - I will be using my white iPhone 5 and some matching white UrbanEars headphones.
Summer reading - current books of choice, Coco Chanel and the Making of Breakfast at Tiffanys.
Summer shoes - Melissa shoes are perfect for any possible poolside activity. Made from plastic, it doesn't matter if they get wet. Mine were bought a couple of years ago from Spartoo Shoes but they are always bringing out cool new designs.
Some beauty products - this McQ by Alexander McQueen leather pouch is perfect for fitting in an all manner of things. It reminded me very much of the Comme des Garcons range but with a striking Q print instead. It is currently holding my Avène spf50 for the face (this I use all year round and is also an excellent make-up base), and a travel size Nuxe Huile Prodigieuse and Reve de Miel lip balm, which are so hydrating.
Is there anything I have missed? What do you take on holiday?