Lately I have been re-assessing my skincare routine. I'm not sure whether it has been to do with the schizophrenic weather conditions lately, but my skin has been suffering a lot from dullness and unlikely break-outs. So I have started researching, mostly on YouTube to see what other products are out there and what is recommended. I'm still looking for new products, I'm not sure whether I have completely found my 'ultimate skincare routine' but I am enjoying finding and trying out some new products. I was particularly interested to learn more about 'skin layering', the Asian and Japanese way of using a series of products to cleanse and moisturise the skin. I think you have to love beauty products to use this system regularly as it is by no means a quick procedure. But I like to take time each evening to look after my skin and find it quite relaxing, so this for me is no hardship.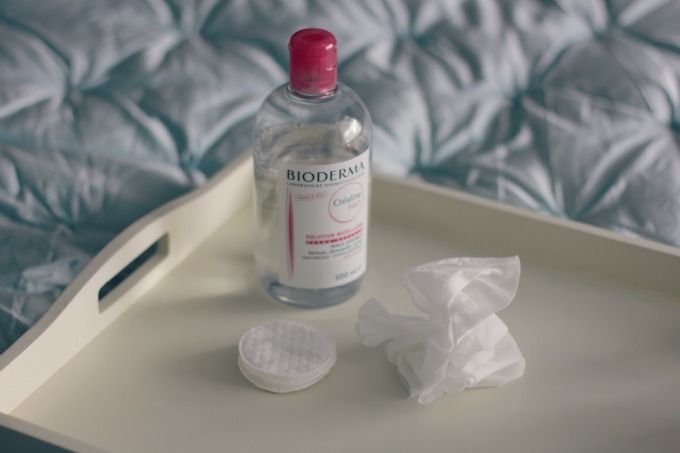 I wil concentrate here on my night-time skincare routine, as I tend not to have too much of a routine on a morning. Apart from a lack of time and patience first thing on a morning, I don't feel as though my face needs too much attention other than a quick wash with warm water, followed by some toner to freshen, daily moisturiser and my regular Avène SPF50.
So my first step when I get in from work, is to remove my eye make-up. I am currently using baby wipes from Tesco to do this which I find work absolutely fine. I've tried many eye make-up removers in the past and for now I am quite happy with baby wipes. I then use a couple of cotton pads drenched in Bioderma water to remove the bulk of my face make-up, as well as any remaining eye make-up. I really love this product, I know everyone raves about it and with justification. It is so refreshing without being at all harsh and really gets rid of make-up well.
I am a recent convert to the Clarisonic. I have seen the rave reviews of this for quite a while now. Due to the expense, I didn't pay it much attention. But once I started researching and watching the reviews, I decided to invest myself and opted for the most recent Mia2 version. I have been using it once a day for a week now and so far am so impressed. I have most definitely been going through a slight 'purging' stage - it brings all of the impurities to the skins' surface and rids itself of any spots or blemishes that would eventually have come out anyway. But what I have found is that the spots haven't lasted as long as they normally would, clearing in only a day or two. Overall my skin feels so much smoother and cleaner, I really can't imagine not using the Clarisonic everyday now.
I am using my Clarisonic with Eve Lom Cleanser currently. I have used Eve Lom on and off for over ten years and always return to it as being the best cleanser around. I know that Space NK (where I bought my Clarisonic) do recommend this cleanser to be used with it. However, in what way I am not exactly sure. After the removal of my make-up with Bioderma I have then being smoothing the Eve Lom balm onto my skin, wetting the head of the Clarisonic and then using circular motions to cleanse my face with the Clarisonic. I read an on-line review that also used this particular cleanser in this way. But after a discussion with the SA of my local Space NK she was HORRIFIED! that I was double cleansing and not using Eve Lom with the muslin cloth. I do still quite like the fact that my Clarisonic is replacing the muslin cloth and so far I am happy with the results.
Despite being a huge Eve Lom devotee, I am still quite open to try other cleansers to use with the Clarisonic. My first alternative will be Aēsop's Fabulous Face Cleanser. I have yet to try this for a period of time though, so won't pass comment on its' effectiveness right now.
My next step is a swipe of this very mild Rosewater from Santa Maria Novella Pharmacie which I bought recently from London's Piccadily Arcade. I know the whole point of the Eve Lom cleanser is that it functions as a cleanser / exfoliator / toner in one. But as I am not using the muslin cloth ran under cold water to close the pores, I like this toner to freshen the skin after cleansing.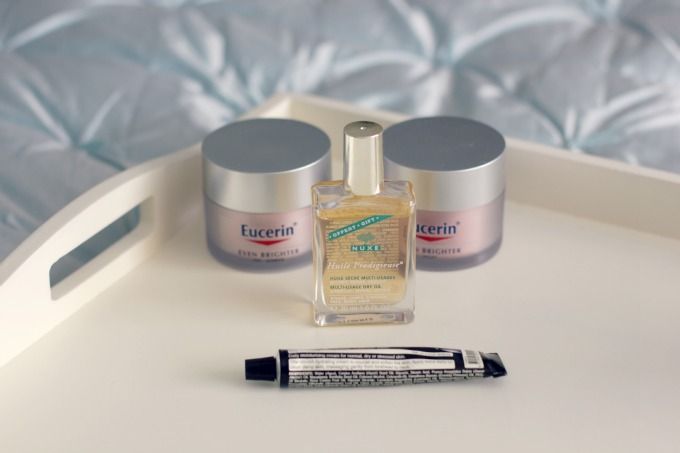 I received a sample bottle of the Nuxe Huile Prodigieux Dry Oil when purchasing a couple of Nuxe products from M&S recently, and absolutely adore it. It gives perfect moisture to my face on an evening and comes in quite handy as a replacement to Moroccan Oil for my hair too. I am also currently trying out Aēsop's Primrose Facial Hydrating Cream when I want something less oily, I love the aroma of their products so much and they work really well too.
The final stage of my night-time skincare routine are the little extras. I am using an eye-cream that I found in TK Maxx, Glycolic Formulations Rejuvenating Eye Cream. I watched a Lisa Eldridge video on YouTube where she raved about Glycolic Acid, so decided to try this out for myself. I am using Nuxe Rêve de Miel lip balm before bed and also trying out Aēsop's Rosehip Seed Lip Cream. And finally I would include a hand cream as part of my night routine, as it is one of the best times to moisturise. Aēsop's Resurrection Hand Cream is a wonderfully fragrant and intensely moisturising but quick-drying cream.
I've had this post planned for a while but recently received a surprise package through the post containing these three products from Eucerin, so thought it appropriate to include them here. This is a new range from Eucerin - Even Brighter Clinical, a clinically proven skin brightening range to enhance radiance and diminish pigmentation. Eucerin have conducted research to find that number one on a woman's dream skin wish list was Even Skin Tone, many felt their appearance was marred by pigmentation marks, with women aged over 40 having one or more extensive areas of hyperpigmentation and younger women increasingly affected. This range looks to make skin look brighter, refine skin appearance, smooth the skin, restore skin's natura radiance, make the skin more even toned, improve the elastcitiy of the skin, maintain clarity of the skin, fade away skin tone irregularities, firm / tighten the skin, clarify the skin's complexion, make the skin look visibly younger and noticeably even out irregular pigmentation.
Personally I have very fair skin, prone to freckles which I have always hated. As a child I used to apply neat lemon juice to my face in the hope of fading away my freckles. They have faded as I have gotten older, consistently avoided the sun and worn a high SPF religiously for many years. But my skin is not perfect, so I can't wait to try out this range. I have used the day and night cream for a couple of days so far and love how moisturising it is. The brand give a four week guideline to notice results of their claims. Do let me know if any of you would like a follow up post in a month of how I have got on with the range.
Hopefully this post has been of some use to some of you. When researching skincare I was interested to read and watch as many reviews as possible. I would love to know if there are any products you would recommend or your thoughts on the method I am using.