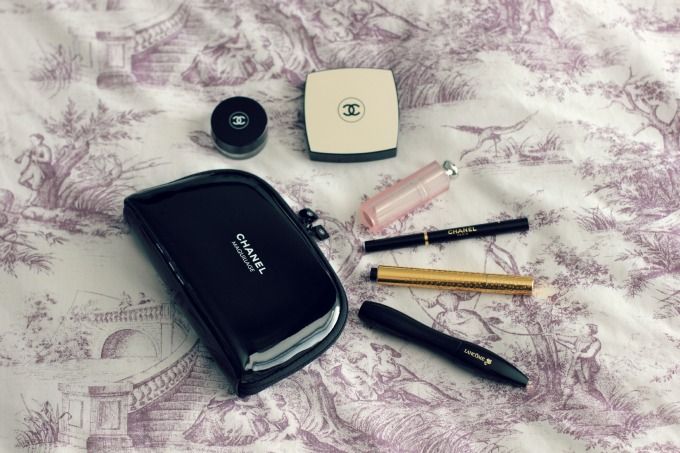 When I recently posted 'Addicted to... Lipsticks', one reader requested a favourites post. So I thought I would do a round-up of my current make-up favourites, not just lipstick. Some of these are old favourites and a couple are some recent buys.
~ Face ~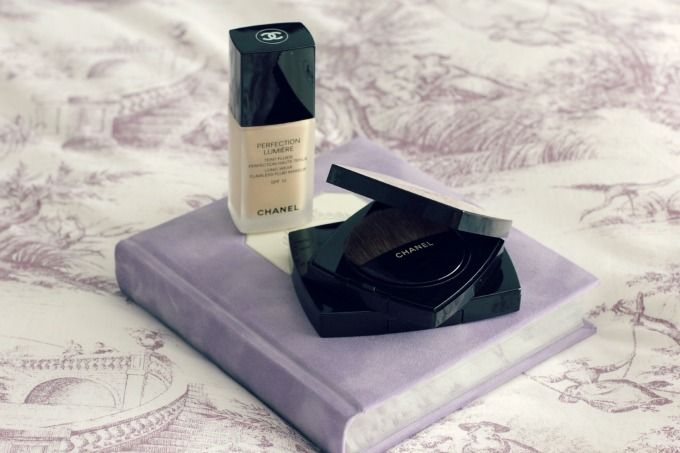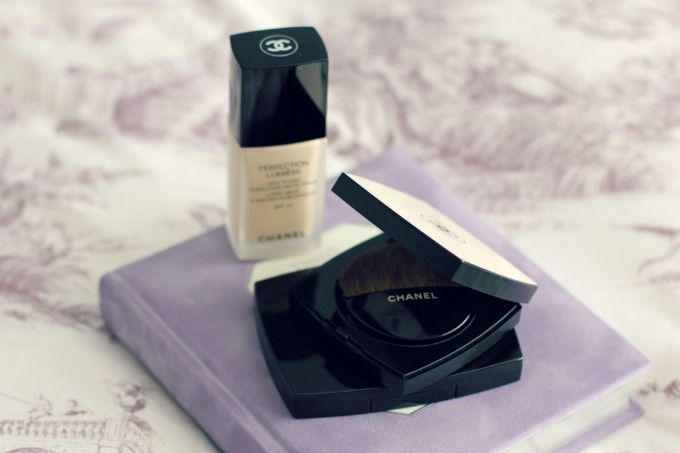 To start my day I have been using Chanel's Perfection Lumière in shade 10 Beige. I really like this foundation and is a good match for my skin tone. It is quite matt and very long-lasting, definitely remaining until the end of my work day. It has a light rose fragrance which I was a little unsure of at first (I prefer my beauty products fragrance free) but which now I am used to, I absolutely love.
As soon as the new Chanel Les Beiges video popped up on my YouTube feed, I immediately rushed to a store to investigate further. This is a very finely milled pressed powder which gives a very light 'glow'. Again, my shade is the palest No10 and gives me just a hint of colour. I really like the brush it comes with, although I think I will also invest in the Les Beiges Retractable Kabuki Brush in the range too.
And finally, despite not really needing to touch up too much with the Perfection Lumière Foundation, I always like to carry with me a compact throughout the day, so this is the Chanel Vitalumière Éclat in shade B10 Beige Pastel. Another finely milled pressed powder foundation, it gives a little more coverage than the normal powders.
~ Eyes ~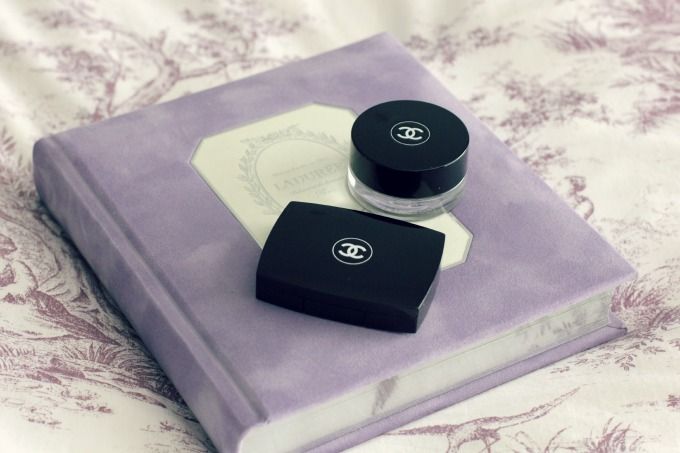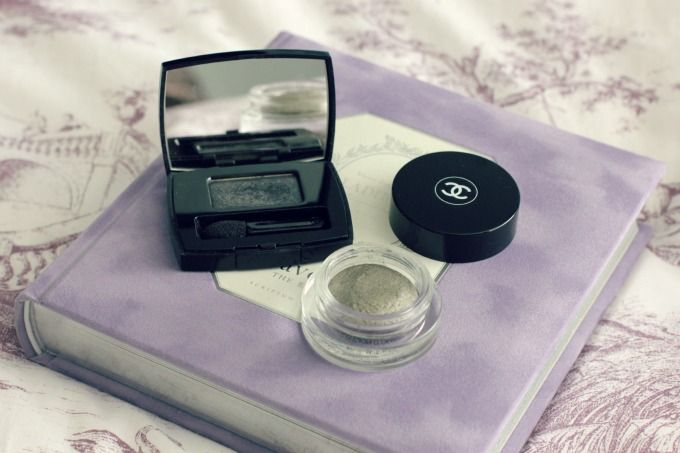 Currently for eyes I am using Chanel eyeshadows. The dark grey colour is Ombre Essentielle in shade 69 Black Star. I use this as a soft eye-liner along my bottom lashes. I bought this at the Covent Garden Chanel Beauty store just before Christmas and have been using it ever since.
Also I am using Illusion D'Ombre in shade 84 Épatant, which is a beautiful shimmery green shade, as an eye-shadow along my lid. I already have a couple of these shadows in silver and peachy tones and really love the mousse-like consistency as well as them being quite long-wearing. My only complaint would be that liquid eye-liner does not sit too well on top of it and so needs to be touched up quite a bit throughout the day.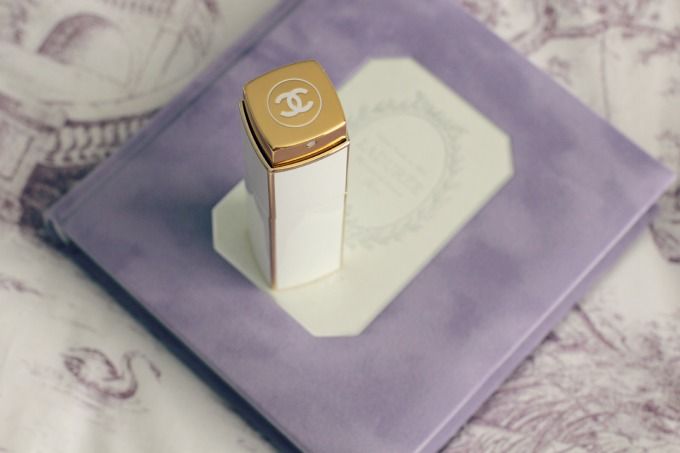 Although I really did not need any more perfume adding to my collection, I received Coco Mademoiselle as a sample around the Valentine's Day promotion and decided that I could not live another day without it in my life. Thankfully Debenham's had a 20% discount offer on, so I bought it a little cheaper than usual.I chose the Purse Atomiser set and love it's compactability, to be able to keep it with me in my bag for constant refreshing throughout the day.
~ Lips & Nails ~
As you probably already know, I have a huge collection of lipsticks and nail enamels. But these are the combinations I have been using the most recently...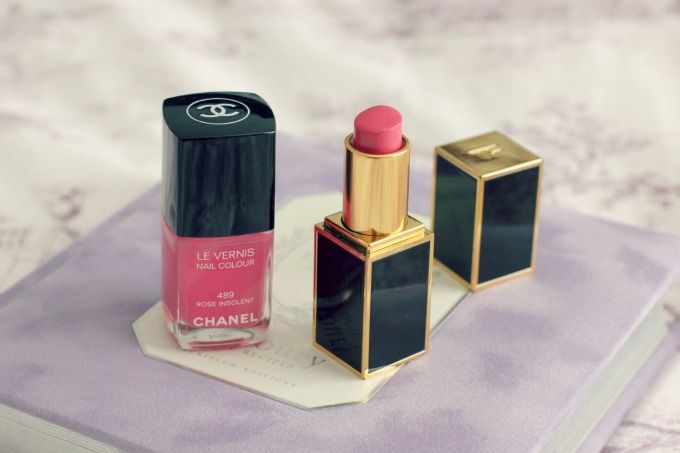 Chanel Nail Enamel in shade 489 Rose Insolent worn with Tom Ford Lipstick in shade Flamingo. These are the most beautiful bright summer pink shades. I'm onto my second bottle of the polish and it looks as though I will be needing to re-purchase the lipstick soon too.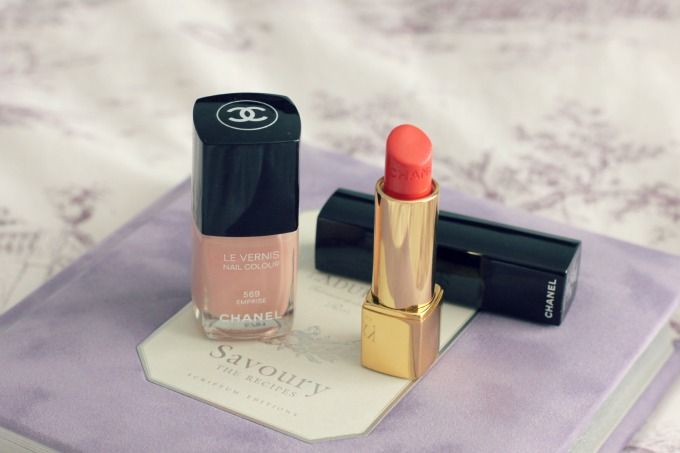 Chanel Nail Enamel in shade 569 Emprise worn with Chanel Rouge Allure in L'Éxuberance. The polish is one of the new shades from Chanel's Spring/Summer '13 Collection. I absolutely adore this pastel peach shade, a very lovely nude colour.
I can't really get away with a pale lipstick as my skin-tone is a little too pale, so I wear thi
s polish with a brighter orange colour. I originally bought this shade lipstick to accompany the Holiday nail enamel but it ended up much paler on application than it looks in the tube. So it is quite a good accompaniment to Emprise.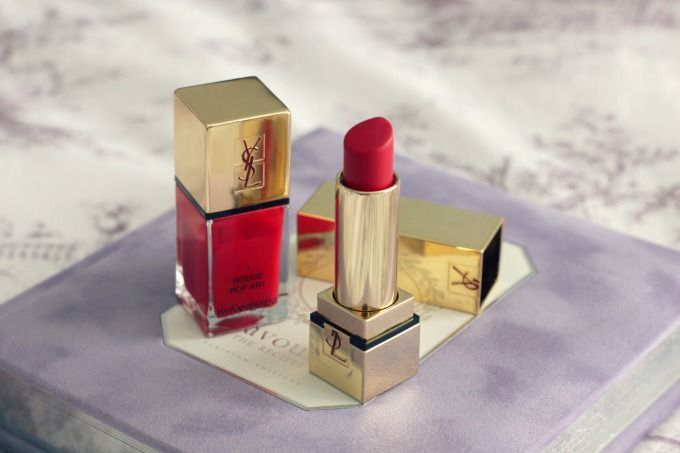 I wanted a classic orange toned red lipstick and polish and saw these from YSL on Into the Gloss. This is exactly the shade I was looking for, quite a 1940's red shade. The nail enamel shade is No1 Rouge Pop Art and the lipstick the range Rouge Pur Couture but unfortunately it looks as though the shade number has rubbed off the packaging. The brush on the nail polish is fantastic, giving very good, precise application. And the lipstick is perfectly matt and long-wearing, definitely one of my favourite collections. It has a pleasant rose fragrance, my only complaint being that the packaging seems to easily scratch and mark.
Finally for lips and nails, I love a good strong orange shade, I think it looks particularly good with black clothing. The nail colour is Chanel's shade 617 Holiday and the creamy lipstick is YSL Rouge Volupté in shade 15. Both are very highly pigmented colours which I love and compliment each other very well I think. I am onto my second tube of this lipstick and have a couple of others in different shades also. The packaging is quite a feast for the eyes I think.
~ Everything Else ~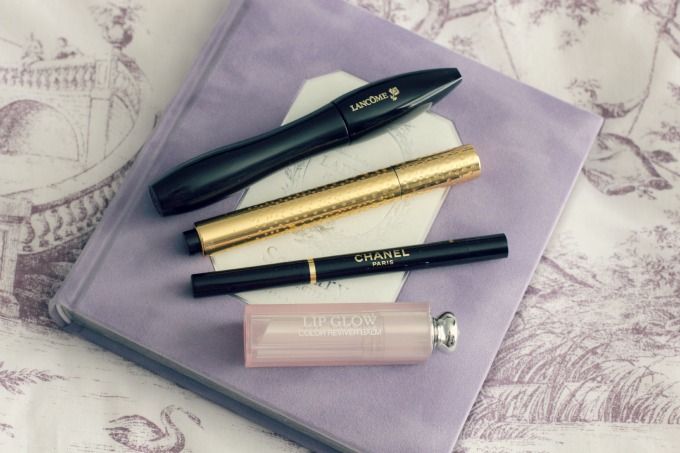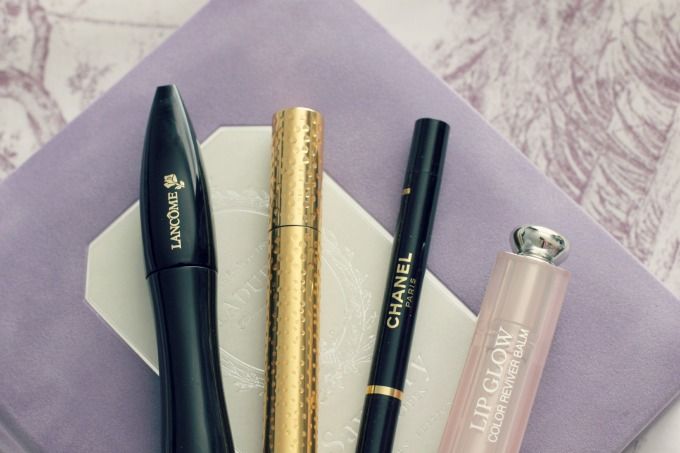 I had been using Chanel's Inimitable Mascara but once it ran out, I decided I wanted something a little more dramatic so decided to try Lancôme's Hypnôse Drama Mascara. Exactly what I was looking for, this gives quite a false lash effect. Probably too dramatic if you have long eyelashes but perfect for my average length lashes.
I had tried the YSL infamous Touche Éclat many years ago but for some reason never re-purchased it. Perhaps I was too young for it to give me any major benefit. Now, after constant disrupted sleep with my ongoing back problem, I am noticing increasingly regular puffiness around my eyes, so decided to give it another go. This is shade No1 and is helping tremendously. In fact, I have stopped using any of my other concealers and am using it in place of the others.
Chanel's Liquid Eyeliner, Écriture is one I have used for many years and which I keep returning to. I asked my parents to bring this back from holiday for me from Duty Free knowing my Christmas buy would soon be ready to run out. This is such an easy liquid eyeliner to apply, giving as thin or thick a line as you may prefer.
Finally, I had ran out of a few lip balms at the same time and decided to treat myself to just one higher-end balm. This Lip Glow by Dior Cosmetics is a non-sticky balm which has a 'Color Reviver' in it. So if you don't want to wear any lipstick and are looking for a natural lip colour, this brings out the pinkiness of your own lip colour. I panicked when I saw it was Limited Edition but apparently it has already been out for a couple of years now, so hopefully it has been made a permanent feature.
~~~~~~~~~~
So, that is all for my current cosmetic favourites. I am often buying new make-up, so my favourites can change every now and again. Maybe I will post again another round come that time. I love finding new products, so would love to hear your favourites too.