The trend of rockabilly fashion is set to stay. With alternative or rock girls and even a few hipsters wearing rockabilly influences, the look is living strong. Some people completely immerse themselves in the lifestyle and have a house decked out in a 50s style, a vintage car, the works. But living and breathing one – quite specific – look must be exhausting mustn't it?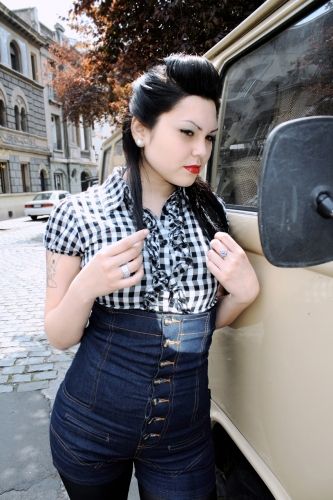 It needn't be that difficult. Externally, this is a look that is easy to keep up when you're having a night out; say you're on a date or meeting some friends for a drink. You throw on a swing dress or pencil skirt, right? Stick some polka dots, heels and a big hair accessory in the mix and you're set.
What about day to day activities though? If you're nipping to the supermarket or going to your mum's for lunch, you don't want to be dressed to the nines. So how exactly should you dress as a casual rockabilly girl by day?
Well actually, much of the same 'rules' apply – colours, patterns and styles don't really change, it's just the individual garments themselves.
Pencil skirts, cropped trousers and skinny high-waisted jeans are a staple part of any casual rockabilly girl's wardrobe. Pussy bow blouses, vest tops and halter neck tops stay on trend but can be worn by day.
If you don't want to totter around in heels during the daytime, your best bet when it comes to footwear is to go for flat ballet pumps or Converse trainers.
Wear a statement piece of jewellery – something cute and playful in the shape of cherries, hearts, roses, horse shoes and similar. Perspex necklaces from Tatty Devine are very popular at the moment and fit the rockabilly genre perfectly. Little additions like neck scarves, belts to cinch in the waist and cat eye glasses help the look too.
Victory rolls are the ultimate 50s statement – you can wear a plain t-shirt and jeans, and team them with victory rolls and you'll still manage to look rockabilly and stylish. Add a really big flower hair clip to finish the look. This video shows how to create the perfect victory rolls:
A patterned bandana will also compliment a more casual look.
Take insight from nautical looks – think white, red, blue combined with tattoo prints such as anchors, swallows, bows, dice and roses. Other basic patterns include animal print, polka dot and gingham.
If you find it difficult to find some items, you can take influences from modern fashion too – just make sure you add a key rockabilly item. For example, skater skirts are very popular at the moment. You can easily get away with wearing skater skirts if you opt for a leopard print. Likewise, a playsuit combined with a neck scarf and victory rolls will keep you in the rockabilly gang.
(Rockabilly girl photo credit: http://www.arteyfotografia.com.ar)
This post was brought to you by ShopStyle.