There's nothing worse than arriving at your site, in the middle of nowhere, after a long trip, only to unpack and find you're missing some essentials – like tent poles (I admit to being guilty of that one). So it helps to have a checklist to reference before you head off to make sure you're not leaving anything behind.
What you need will obviously depend on your own individual camping plans, where you're headed, expected weather conditions, and how many people are travelling with you. So this camping guide is intended as a basic checklist of essentials that you can add to as you see fit. It'll help you decide what to pack before you head off on holiday, so you'll have everything you need for adventure, fun and comfort in the outdoors.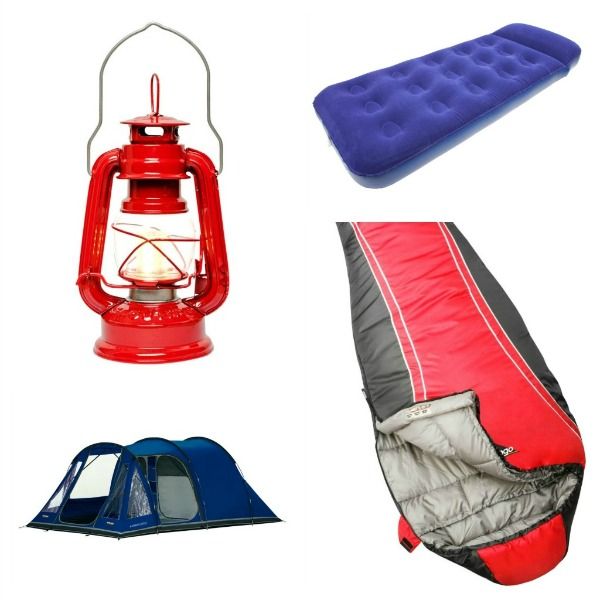 Tent essentials
Tent – always check that every part of your tent is packed up together before you set off – the tent itself, flysheet or tarp, tent poles, pegs and guy lines.
Groundsheet – this will give you added comfort, warmth and protection against moisture. You'll find fancier groundsheets available that help prevent sand, grit and stones getting in under your tent, but any basic groundsheet will help make your stay more comfortable.
Tent extras
Tent repair kit – this can be a useful extra, in case your tent suffers a tear. It could mean the difference between a comfortable night's sleep, and a sleepless and soggy night thanks to a leaky tent canvas.
Peg mallet/extractor – you can use a rock or other hard object to nail in tent pegs, but a proper mallet will make the job a whole lot easier, and the same goes for a peg extractor too.
Windshield – this is a great extra to consider if you plan on camping in the open, where there's little natural shelter provided by woodland, large rocks or hillsides.
Sleeping essentials
Sleeping mat – lying on hard ground is never comfortable for long. A good sleeping mat can make all the difference when it comes to dozing off rather than tossing and turning all night.
Pillows – again, you'll have a much better night's sleep when your head is supported and more comfortable.
Sleeping extras
Blanket/duvet – if you expect the temperature to drop – and it can take a surprising dip in the very early hours of the morning, then packing some extra bedding is essential. When space is an issue, fleece and wool blankets will take up less space while offering superior insulation.
Airbed and pump – if you prefer more support than a simple sleeping mat, airbeds are a great alternative – but always check to see that you've packed the pump!
Other optional extras for added warmth at night are:
A sleeping bag liner;

A hot water bottle
Cooking essentials
Stove or barbecue;

Fuel;

Matches or a lighter;

Kettle;

Pots and pans;

Can opener;

Plates or bowls;

Cutlery;

Washing up bowl;

Washing up liquid;

Washing up brush/sponge/scourer
Lighting essentials
Lamp or torch(es) – if you like reading in bed, you might want to consider a head torch or clip on light.;

Spare batteries!
Personal essentials
Toothbrush;

Towels;

Toilet roll;

First aid kit;

Wet wipes – not strictly essential, but they come in so handy for all matter of uses.
Checkout Millets for all your camping essentials and more.
This post was brought to you by Millets.