Today I am going to talk about eyes. Or more specifically, eyesight. With a prompt from
Ultralase
, the laser eye surgery specialist, I am bringing to you my own experience of laser eye surgery.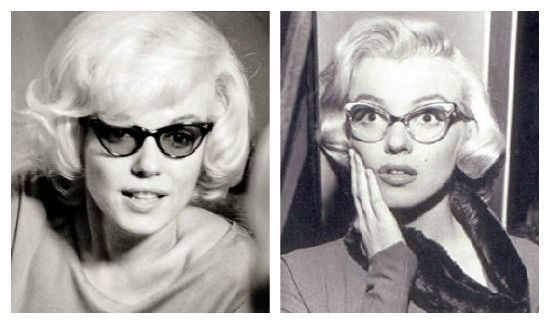 Fashion obsessed from a young age, around the age of 13 I got into my mind that I would like to start wearing glasses. No doubt spurred on by my icon of the time Marilyn Monroe, (I adored her look in Gentleman Prefer Blondes), I decided that glasses would be a very good accessory to wear.
And so it was around this time coincidentally that I began to have difficulty reading the blackboard at school whilst sat at the back of the class. Not surprisingly, my mother wasn't entirely convinced that I actually needed the glasses, so I ended up making my own optical appointment and true enough needed to start wearing glasses for my short-sightedness. If only I had known then what a costly time I was about to enter into. I quickly got bored of the glasses wearing and around age 17 decided that contact lenses would be the way forward. I then needed to alternate between glasses and contact lenses for the foreseeable future, enduring many blind moments at the beach or swimming. Having poor eye sight, which I'm sure many of you will agree with, is not good.
I had heard of laser eye surgery before, being advertised on tv constantly. And after much persuasion by friends and family who had already had the procedure done, I decided to save my money and make an appointment to find out more. That was almost 8 years ago and, as they say, I have never looked back. My option was the less invasive LASIK procedure. It took a matter of minutes to carry out and later that evening when I opened my eyes, I could see perfectly for the first time in many many years. I had several checks over the next few months to ensure all was well. And now, I can hardly even remember ever wearing glasses or contact lenses.
I think sometimes the cost puts people off (my surgery at the time was around £1500) but when you think of all the money spent on glasses and contact lenses over a twenty year period, it really is the less expensive option. I am aware that while this will only be a solution for my short-sighted problem and not the long-sighted issue which will occur eventually with age, this to me was still a procedure worth getting done and that I cannot recommend enough.
Do let me know if you have thoughts about having this surgery done or have any questions or concerns that I may be able to help out with :-)