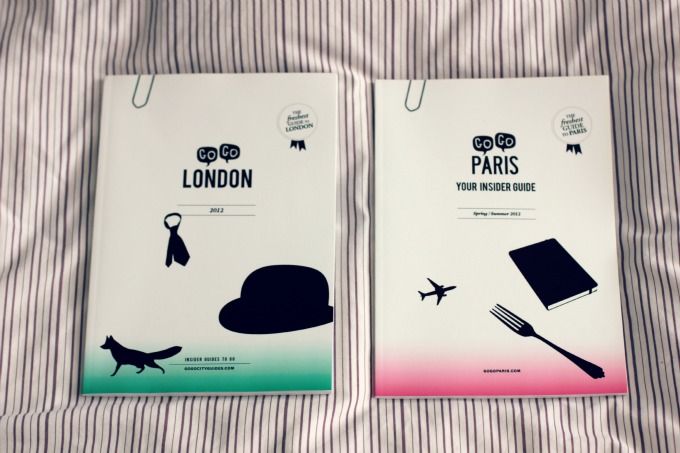 My favourite cities that I want to return to time and time again are always the same three - Paris, London and New York. I rely on travel guides a lot to find out more about the cities I visit but quite often these guides give me only the average tourist routes. What I am most interested to find out are those places that are off the beaten track, cool places that only an insider would know about. This is where GoGo Guides come in, cool travel guides with easy navigation, stylish illustrations presented in a simple and concise style. The guides are available in both print and iPhone app, with the app having live updates as places open and close.
Based on the success of their cult Paris guide, GoGo is expanding to other world capitals, starting with London, developing a series of reliable new generation guides for a savvy international community of culture junkies, who want to know more! Since it's release in 2010, GoGo Paris has forged a reputation as the definitive Generation Y guide. The new GoGo London guide brings the same tight editing, in-the-know selection, edgy attitude and unique up-to-dateness to mapping the UK capital. Both guides are written by a local team and have a special focus on emerging local designers, independent boutiques, small neighbourhood bars and fresh new restaurants that no other guide knows about yet.
I had the chance to ask GoGo Guide founder Kate van den Boogert some questions on the newly launched guides...
Hi Kate, tell me a bit about yourself and where you are based.
I`m from

Melbourne but I`ve lived in Paris since 2000. This blend of cultures has allowed me to create a niche with Gogo the brand, which is a mix of straight-up Aussie accessibility and European insider chic. I`m based full time in Paris but spend so much time in London that the culture clash is less of a clash and more of a high-speed blur.
What is your career background?
I started my career in book publishing, but began working more as a journalist after I moved here. I`ve worked with everyone from Time Out to Vogue. I`ve been developing Gogo since 2005, with the brand evolving from a free fanzine to a digital downloadable pdf, to the hugely popular blog via Twitter and other social media, to the printed guide and now the app. We're at the forefront of the digital revolution in travel guides.
How did you come up with the idea of GoGo Guides?
All of a sudden, after so many years publishing the latest Paris news and gossip, we were experts, so the idea of putting all that information in one place kind of imposed itself. And then we were also tired of traveling and never finding the guide we were looking for, one with tighly edited, insider addresses, and on the money regarding fashion, art, design… And also something that was plugged in to this digital, social world.
Why did you decide to have both print and app versions of your guides, is one proving more popular than the other?
The future for travel guides is digital so developing an app was a no brainer. The guidebook and the app fill different needs. The app with live updates means regular trips in and out of the city are always fresh. But a lot of us still prefer paper. In any case, we're convinced both formats complement each other.
I love the design of the guides, what was your inspiration in the style?
We've been working with the young French design duo Alice Gazio & Doris Hémar for a few years now (http://www.alicegazio.com/). We're really happy with how they've embodied our attitude. The book design is a kind of hybrid straddling both guide and magazine formats. And we don't use photos.
What makes your guide different to any other travel guide currently on the market?
Our guides come out twice a year in print, and we go to print a week before the guide's on shelves! That's pretty exceptional. No other guide stays on top of openings, closings, what's in, what`s out and what`s just coming on the radar like we do. And our highly selective edit of the city is unique too. We get the inside scoops, hangouts and secret places from our friends and industry contacts. We go everywhere and review everything ourselves. And lastly, our tag system, both in print and digital formats, is a unique and valuable way to browse our content.
How have you selected the places in your guides, what is the criteria?
Paris and London are simultaneously villages and major world capitals and I like that paradox. The guide aims to let you experience them like a local, as if it were your home town, while still flagging all the ever changing and new experiences of a big city. We look at who`s behind each gallery or each club, we know the background of all the creators and we take the time to go beyond just the front door. My background in journalism means I see beyond the hype and I only put it in our selection if there is a valid and interesting reason to go there. I don`t necessarily include places just to "be seen" or because its hot this week. It has to be a real destination, and emblematic of the city.
Are there plans for more guides in other cities soon, after the success of London and Paris?
What does the future hold for GoGo Guides?
Needless to say, more and more people are thinking twice about shelling out for a new guide that has already aged six months before it reached the bookshelves, or for apps that turn out to a waste of time, so Gogo will just keep making sure you have the best information on hand the second you hit town and I`ll just keep eating my croissants.
Thanks to Kate for the inside scoop on GoGo. Without spoiling them too much, here is a brief visual insight into both the print and iPhone apps. If you're planning trips to Paris or London and are looking for cool of-the-moment places to visit, I urge you to investigate GoGo in a little more depth.